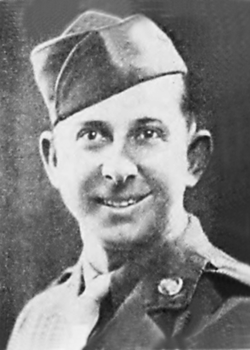 Irwin P. Gibbons
Biography: Irwin Philip Gibbons was born in 1919, in New Zion, South Carolina. He was the son of Robert Philip Gibbons and Agnes Ila Truluck and had four sisters and two brothers.
Following his graduation from New Zion High School, he attended Wofford College in Spartanburg, SC. His enlistment record indicates he completed one year of college and worked at a semiskilled construction job prior to entering the military.
Service Time: Irwin entered the Army on March 23, 1941, at Fort Jackson, Columbia, SC. He was later assigned to the 813th Tank Destroyer Battalion, which had been activated on December 15, 1941, at Fort Bragg, North Carolina. They completed all of their training at that location and then shipped out from the New York port on August 5, 1942.
They arrived in England on the 17th and four months later were again on ship, traveling to North Africa. They arrived there on December 14th and participated in the Tunisia Campaign, working with British and French forces as well as the U.S. 34th Infantry Division. Part of the battalion went to Sicily, Italy, with the 3rd I.D. and the 13th Field Artillery Brigade. In the summer of 1943, a portion of the battalion participated in the invasion of Italy.
In November of that same year, they set sail for England and began training for the invasion of France. They landed in Normandy at Utah Beach on June 27, 1944, where they were attached to the 79th Infantry Division. Joining the drive to Le Mans and then north to Alencon at the Falaise Gap, they were the first armored unit to cross the Seine River. They entered Belgium on September 2, later fighting around the Foret de Parroy, in October, and supported the advance toward Strasbourg in November.
On November 26, Technician 4th Grade Irwin P. Gibbons, who was the driver/radio operator for the Battalion Commander, Lt. Col. Clymer D. Jeffries, both left the Command Post in a jeep. At 1230 hours a radio message was received from them but they were not heard from after that. When they did not return by the evening meal, an investigation was initiated by the Battalion Executive, Major George McCutchen. It was soon learned that a patrol from the 79th Recon Troop had been heavily engaged by the enemy at a crossroads just north of Hochstett, France. They had observed a knocked out Jeep, belonging to the 813th, and at least one man had been killed. They were driven from the scene by the intense fire and could not investigate further. The next morning, Major McCutchen drove to the scene and found the bodies of both men. They were brought to the Command Post and later evacuated.

Irwin would have been awarded the Good Conduct, WWII Victory and EAME medals, with credit for the Tunisia, Rome-Arno, Normandy, Northern France and Rhineland Campaigns. He posthumously received a Purple Heart medal.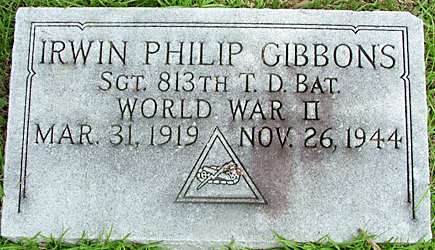 Irwin was initially buried in a U.S. Military Cemetery in France. In April of 1948, he was repatriated to the U.S. and buried at the New Zion United Methodist Church Cemetery, New Zion, SC. We would like to thank T/4 Irwin P. Gibbons for making the ultimate sacrifice for his country. Thank you to Find-a-Grave member Remember Me for use of the headstone photo.