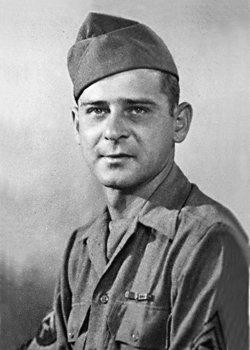 Joseph V. Gurdziel
Biography: Joseph Valentine Gurdziel, "Joe", was born on February 14, 1915, in Hamtramck, Michigan, which is a small town almost entirely surrounded by the city of Detroit. He was one of eight children born to Jan Gurdziel Sr. and Regina Koc (Maciejkowzka), who were both born in Poland.
Due to financial difficulties within the family, he was sent to the St. Francis Home for Boys school which he attended through the 8th grade.
He would later work as a laborer before joining the Civilian Conservation Corps (CCC) in August of 1935. He was assigned to the 666th Company, stationed at Camp Kentucky, in Wetmore, Michigan. His job is listed as reforestation with tasks including planting trees, building snow fences and making timber stand improvements. Joe's supervisor gave him a positive review of his performance and attendance.
Joe left the CCC in December of that same year to accept employment elsewhere. His enlistment record indicates that he was working as a machine operator prior to war.
Service Time: Joe entered the Army at Detroit, MI, on June 10, 1943. In addition to his basic training, he was sent to Driver and Mechanic school which he completed and received his Qualification Badge.
Very little is known about Joe's early service time but we do know that he was sent overseas on February 12, 1944. It is believed that he was assigned to a Tank Destroyer battalion, possibly while he was in England, and continued with that unit throughout the war, receiving credit for 5 campaigns including Normandy, Northern France, Ardennes-Alsace, Rhineland and Central Europe. At some point, probably after the war had ended, he was reassigned to Headquarters Company of the 771st Tank Destroyer Battalion and also spent some period of time serving in the 293rd Ordnance Battalion.
Joe shipped back to the U.S. on November 21, 1945, and arrived on the 29th. He left the service on December 5th, at Camp Atterbury, Indiana. He was awarded the EAME, WWII Victory and Good Conduct medals. He held the rank of Technician 5th Grade.
Now back in the U.S., Joe found work as a machinist and on September 9, 1950, he married the former Esther Frances Sell. She was born in Gratiot , MI, and was the daughter of Claude F. Sell and Ethel M. Ferguson. The new couple would have one child, a son, Joseph L., born in 1953. The senior Joseph had played baseball during the war and continued his love of the game as an avid fan of the Detroit Tigers.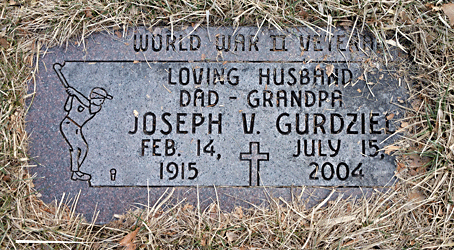 Joe passed away on July 15, 2004, and was buried in the Resurrection Cemetery in Clinton Township, MI. I want to thank Joe's granddaughter, Kim, for providing the information and photos for this tribute.