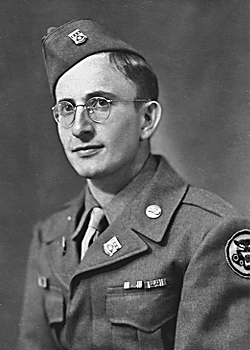 Charles Goforth
Biography: Charles Goforth "Charlie" was born on a small farm in Ridgway, Illinois, to Wiley and Bertha (Rister) Goforth on October 23, 1924. He attended Gallatin County Grade School and Equality High School in Equality, IL. Charlie worked as a farm hand and a mechanic after high school.
Service Time: In the summer of 1944, he enlisted in the United States Army. He was sent for his basic training at Fort Knox, Kentucky. While at Fort Knox, he qualified as a Sharp Shooter with the rifle, and attended the Army Education Program-Automotive Mechanic Course.
Shipping out at the end of 1944, Charlie spent Christmas and New Year's in England but in early 1945, he was assigned to Company C of the 773rd Tank Destroyer Battalion as a Heavy Machine Gunner/Driver. The unit was stationed in Luxembourg at the time. Charlie continued with the unit during the Rhineland Campaign and Central Europe Campaigns as they made their way across Europe and into Czechoslovakia, where they were when the war ended. He received the European-African-Middle Eastern Theater Service Medal, Army of Occupation Medal/Germany, and Good Conduct Medal.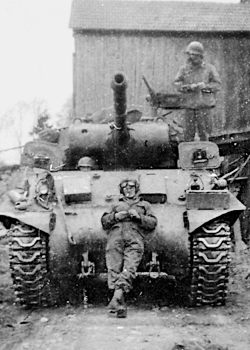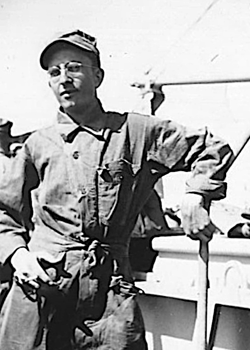 Of the little he talked about the war, the only stories he shared was when the 773rd had to cross a swollen river on a pontoon bridge. The unit had received a bunch of inexperienced replacements, so no one wanted to be the first to drive across. While the discussion went on, Charlie jumped in a tank destroyer and drove it across earning him a driver's seat. Another story he recalled was when they had found an abandoned farm house. Taking shifts to guard and sleep, Charlie was in the house with several others when incoming shells hit the building. Fortunately, they all made it out. Once, while guarding a crossroad, a small convoy of Germans approached under white flags. The photo of the surrender can be seen in the Unit Gallery for the 773rd.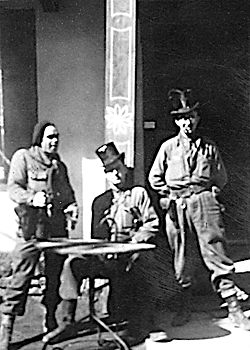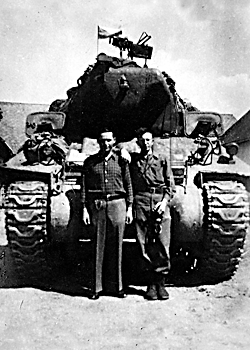 As part of the Army of Occupation, Charlie was later transferred to the 581st Quartermasters Battalion, in Germany. He served as an auto mechanic and as a chauffeur. On June 30, 1946, he shipped back to the U.S. and to the Separation Center at Camp McCoy, WI, where he was Honorably Discharged, at the rank of Technician Fifth Grade. While there, he joined the Army Reserves and in June of 1949, he received his Honorable Discharge from the Reserves.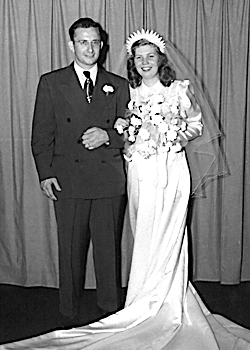 After the war, Charlie returned home and married Mary Virginia Magness on June 15, 1948. She was the daughter of John Omer and Genevieve (Petty) Magness from Evansville, IN. Charlie started working at a printing company in Mt. Vernon, IL, and continued in the printing trade, working in Evansville, IN, Dayton, OH, and Cincinnati, OH, as a member of the Graphic Communication International Union. The family finally settled in Fort Thomas, KY.
Along the way, Charlie and Ginny had six children, Marcia, Janet, Carolyn, John, Jerry, and Alan. He spent his free time with friends and family, and working on cars. He liked the simplicity of Germany's Volkswagen Bug. He was also an active member and involved at St. Thomas Church and St. Thomas School in Ft. Thomas, KY.
Sadly, Charlie's wife, Ginny, passed away in on July 20, 1987. Charlie retired shortly after her death and spent his time with family, watching his grandchildren grow up, gardening, and golfing. He met Cleo Collard of Campbell County, KY, a couple years after Ginny's passing and together, they spent some 15 years traveling and golfing before her passing.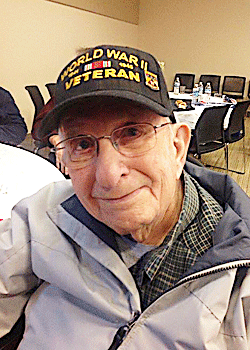 After Charlie's 90th birthday, he moved to The Seasons at Alexandria, KY. While there, he enjoyed field trips, Monday Night Bowling, and any activity that was available. In his free time he would sit in the family room/living room listening to music and watching the staff and visitors go by. Someone was always willing to stop and talk.
On April 8, 2019, Charlie passed in his sleep with his family present. At 94, he lived a long and full life. Funeral Services were held at St. Thomas Church, and he was buried next to his wife, Ginny, at St. Stephen Cemetery, in Ft. Thomas, KY.
I want to thank Charlie's son Jerry for providing the photos for this tribute. I also want to thank Charlie's grandson, Scott, for providing the text and much of the research.