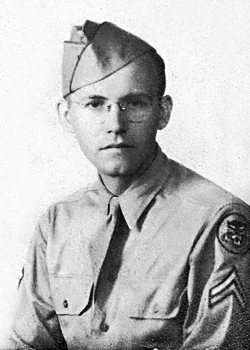 Chester Floyd Gantz
Biography: Chester Floyd Gantz, "Floyd", was born April 28, 1912 in Argus, Indiana. He married Frances Minerva Adams in June, 1941, and lived in Fort Wayne, In. Prior to being drafted he worked for the city utility. Floyd was inducted December 14, 1942. During his time in the Service he wrote to his wife nearly every day. Like many veterans, he didn't talk about the war. Fortunately, 50 years after the war, all these letters my mother had saved were found. His writings are a treasure about his army life and war experiences.
Service Time: Initially, Floyd trained with the 608th Tank Destroyer Battalion and was transferred to the 607th at Camp Cooke, California. Floyd served as a personnel sergeant under Chief Warrant Officer (CWO) Stanley Pierson.
While most soldiers were waiting for word of D-Day, Floyd was waiting for word of his first born. Good news of his daughter's birth on May 10 finally came late. While most of the battalion crossed the channel on June 17th and 23rd, Floyd was in the Rear Echelon that didn't cross until July 4th, landing at Utah Beach. Floyd wrote "…everyone was celebrating by shooting rockets & tracers…I believe it was after midnight when we came ashore and I remember how eerie everything looked and I wondered how everyone kept from getting lost & I still don't know."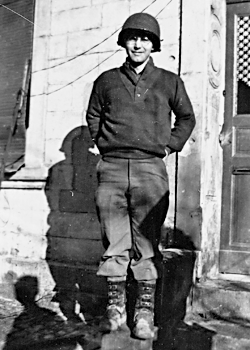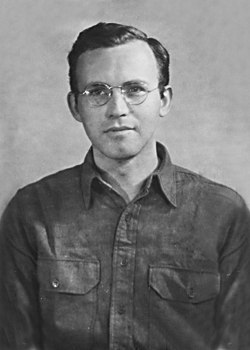 Camaraderie among the soldiers was evident by the nicknames they gave each other: Ikie, Maestro, Buck, The Judge, Shipwreck and Floyd was "Pappy", of course. They first bivouacked at a barn in the small Normandy town of Cretteville. Floyd's July 30th letter mentioned another town, "…seeing one of the towns which had been bombed and it is absolutely impossible to describe the desolation & ruin…there was hardly a building left which was even half whole." Possibly in or near Avranches, he wrote "Every so often a bunch of Free French will drive around singing & yelling and everybody waves when a convoy of American troops goes thru."
Floyd had the utmost respect for the soldiers in combat and stated, "Every credit goes to the boys on the front line." He noted, "I have seen men who obviously had not shaved for 4 or 5 days, not changed clothes for a week or two, and probably not had their hair cut for a couple months. Oh yes, and probably eaten cold rations about half the time."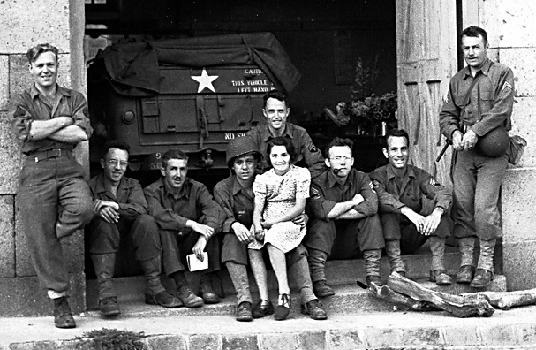 Photo of the unit Personnel Section, taken at Avranches, France, August, 1944. Floyd can be seen sitting third from right. CWO Stanley Pierson is third from left.
The first concentration camp to be liberated was at Ohrdruf, Germany, on April 4, 1945. Generals Eisenhower, Patton and Bradley visited the camp, which was part of the Buchenwald Complex on April 12th. Three days later Floyd's unit was there, and he wrote, "…we saw many bodies, which had not yet been buried. Most seemed to have died violent deaths and were very thin – probably partly malnutrition…They made the local citizens come out and dig graves for the victims. These are pretty gruesome pictures, but the real thing was much worse."
On May 25th, '45, T/Sgt Gantz was awarded the Bronze Star for Meritorious Service. "With no previous training in battlefield administration at a time when casualty and reinforcement problems were particularly heavy, he assumed these new duties in such a manner that his section soon found new enthusiasm in their work."
On October 30th, 1945, T/Sgt C. Floyd Gantz returned to Fort Wayne to his wife, Frances, and saw his daughter, Barbara, for the first time after 1 ½ years. During the war, Floyd wrote to his wife about returning to Europe to show her the sights he had seen. In 1978, they took that trip visiting Macclesfield, England; Cretteville and Mount St. Michel, France, among many other sights. Sadly, Floyd died of a heart attack later in the trip in Germany. His ashes were buried at Covington Memorial Gardens, Ft. Wayne, Indiana.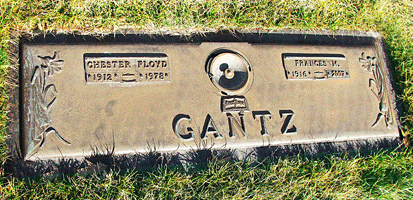 We would like to thank Floyd's son, Ken, for providing the biography and photos in this tribute. We would also like to thank Find A Grave contributor PLS, for the grave marker photo.