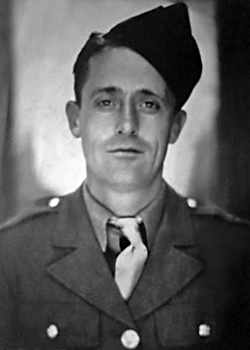 Clement Gribbins
Biography: Clement Gribbins, "Clem", was born on July 4, 1913, in Taylor County, Kentucky. He was the son of James W. Gribbins and Lula J. Warner. His enlistment record indicates he completed grammar school and was working as a farm hand prior to entering the military.
When he registered for the draft October 16, 1940, Clem was living in Merrimac, Taylor, Kentucky. At some point, he married Rena M. Childers who was the daughter of John A. Childers and Florence N. Cox.
Service Time: Clement entered the Army on March 23, 1942, at Fort Benjamin Harrison, Indiana. He was eventually assigned to the 1st Platoon, Company A, 638th Tank Destroyer Battalion. The unit trained at a number of locations in the U.S. including Camp Shelby, Mississippi, Camp Hood, Texas, the 1942 Louisiana Maneuvers, Camp Claiborne, LA, Camp Carabelle, Florida, Camp Livingston, LA, a 2nd Louisiana Maneuver, the Desert Training Center, California and Camp Gruber, Oklahoma. They arrived at Cherbourg, France, September 7, 1944, equipped with M18 tank destroyers. Entering the line near Prummern, Germany, on November 20, they supported operations against the Siegfried Line. Shifting to the Ardennes sector around Rochefort, Belgium, on December 22, the unit fought to reduce the Bulge during January, 1945.
On January 3, 1945, Company A, attached to the 333rd Infantry Regiment, 84th Infantry Division, moved from Oppagne, Belgium, to Grandmenil. On Jan. 4, 1st Platoon selected firing positions east of Manhay and dug in. While on a reconnaissance mission, the platoon leader, Lt. Taylor L. Kennedy, and his driver, Corporal Clement Gribbons, ran over a land mine. Clement was killed by the blast and Lt. Kennedy was injured. He was posthumously awarded a Purple Heart Medal.
Corporal Clement Gribbins was originally buried in Europe but in 1950, he was disinterred and reburied in the Merrimac Church Cemetery, Merrimac, Kentucky. We would like to thank Clement for making the ultimate sacrifice for his country. We would also like to thank Clement's niece, Lisa, for providing the photos used in this tribute.