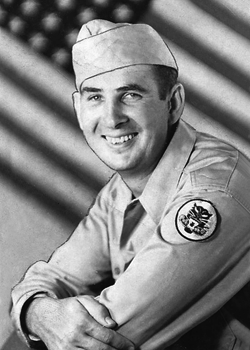 James W. Guin
Biography: James William Guin "Bill" was born on April 23, 1917, in Hopewell, Virginia. He was the son of Ernest Benjamin Guin and Mildred Mabel Sherer and attended school through the 12th grade.
On March 4, 1939, he married the former Blanche Morton in York, South Carolina. She was from Maysville, North Carolina, and was the daughter of Basil J. Morton and Hannah S. Banks.
Bill's enlistment record indicates that he worked as a truck driver prior to the war. We believe he worked for the Shell Oil Company located in Charlotte, North Carolina.
Service Time: Bill entered the service on October 14, 1940, at Fort Bragg, NC. After his initial training, he was ultimately assigned to the 638th Tank Destroyer battalion. He would train with the unit at a number of military facilities, including Camp Hood, Camp Howze and Camp Swift in Texas, Camp Shelby, Mississippi, the 1942 Louisiana Maneuvers, Camp Claiborne, LA, Camp Carabelle, Florida, Camp Livingston, LA, a 2nd Louisiana Maneuver, the Desert Training Center, California, where they trained on the new M18 tank destroyers and Camp Gruber, Oklahoma.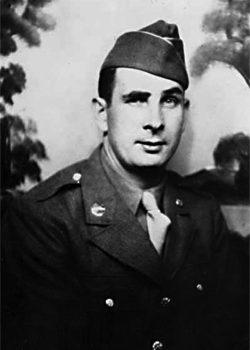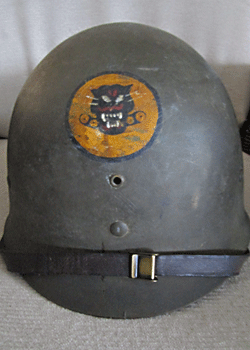 The photo above right shows Bill's helmet liner, which was purchased from a French store specializing in military collectibles. We are not sure if the Panther logo was his own artwork or someone elses.
Before going overseas, they moved to Camp Kilmer, New Jersey, for final preparations. On August 30, 1944, they shipped out and arrived at Cherbourg, France, September 7, 1944, equipped with M18 tank destroyers. Entering the line near Prummern, Germany, on November 20, they supported operations against the Siegfried Line. Shifting to the Ardennes sector around Rochefort, Belgium, on December 22, the unit fought to reduce the Bulge during January, 1945.
The unit received credit for the campaigns of Northern France, Rhineland, Ardennes-Alsace and Central Europe. Bill was awarded the Bronze Star for Meritorious Service during the period March 30th to April 24, 1945. He left the service at the rank of Technician 4th grade.
Little is known about Bill's life after the war but we do know that he and Blanche had at least two children, a son, James Jr. and a daughter Norma. We believe Bill went back to work for the Shell Oil Company and retired from there as a dispatcher. Bill passed away on November 1, 1972, after a long illness. He was living in Charlotte, NC, at the time and was buried in the Forest Lawn West Cemetery, also located in Charlotte.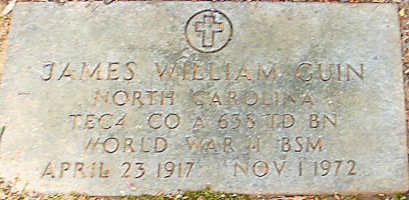 We want to thank Serge Lemaire for providing information and the photo of Bill's helmet liner. We also want to thank Bill's son, James, for the main photo of his father. Also, thank you to Find-A-Grave contibutor Susan I. Grills, for use of the grave marker photo and Don Williams for providing additional information.