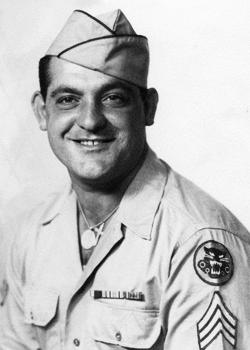 Philip J. Gagliardi
Biography: Philip Joseph Gagliardi was born on January 30, 1920, in Philadelphia, Pennsylvania. He was the son of Matteo and Victoria Ann Gagliardi. He attended Our Lady of Loreto primary school in Philadelphia but dropped out of high school after the 9th grade. His enlistment record indicates he was working in some type of semiskilled occupation in printing and publishing prior to the war.
Service Team: Philip entered the service on April 26, 1943, at Philadelphia but went on active duty on May 3rd. After his initial training, he was assigned to B Company of the 661st Tank Destroyer Battalion and trained with them within the U.S., at a number of military facilities including Camp Hood, Texas, Camp Claiborne, Louisiana, Camps Swift and Bowie, TX and Camp Chaffee, Arkansas. On December 22, they moved to Camp Shanks, New York, for final preparations before shipment overseas.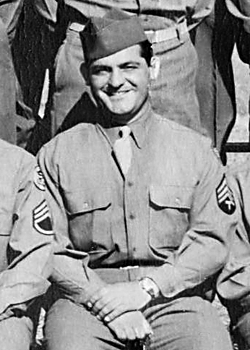 They shipped out from the New York port on January 10, 1945, and arrived at Le Havre, France, on January 21st. They were equipped with M18 tank destroyers and received a hurried two weeks of preparations before marching hundreds of miles into the interior of France. They were committed to battle at Rocherath-Krinkelt, Belgium, on February, 16th.
Philip had worked his way up from a Private to a driver, then anti-tank crewman and finally platoon sergeant, responsible for the tactical deployment of gun crews, their guns, set-up and firing of those guns and maintaining radio communications with the various crews under his command.
Fighting along the Siegfried Line near Helenthal, Germany, in March, they then crossed the Rhine on the 27th. They advanced across Germany to Leipzig by April 17th, where the men saw their last fighting. Members of the 661st met with the Russians at the Elbe River in Torgau, Germany. In a short three month period, the 661st had taken 727 prisoners, destroyed many anti-aircraft guns, machine gun nests, and strong-points and marched over 1200 miles.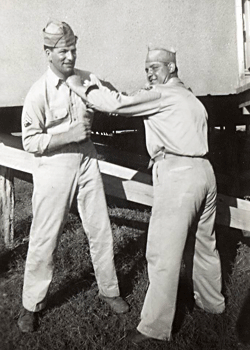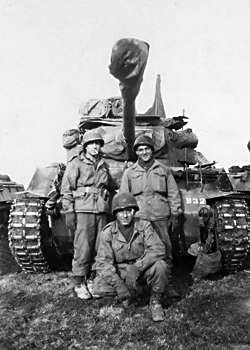 The unit received credit for campaigns in the Rhineland and Central Europe. Philip left the service at the rank of Sergeant, at Indiantown Gap Military Reservation in PA, on February 3, 1946. He received two commendations from his commanding officer regarding his leadership of his men.
Now back in the U.S., Philip found work with the J.G. Brills company in Philadelphia. On April 12, 1947, he married the former Mona Lisa Della Vecchia who was born in Darby, PA, and was the daughter of Antonio D. and Filomena Vecchia. The new couple would make their home in Glenolden, PA, and have two sons, Martin, born in 1948, and a second son James (Jim) in 1959.
Philip later got a job with the Westinghouse Company in Essington, PA, and he worked as a steam fitter and safety man. He remained with Westinghouse for 27 years until his retirement. In his spare time, he enjoyed crabbing with hand-lines, watching sports and crossword puzzles. He also collected for Catholic Charities Appeal and worked with the Boy Scouts, heading Troop #127 in Glenolden.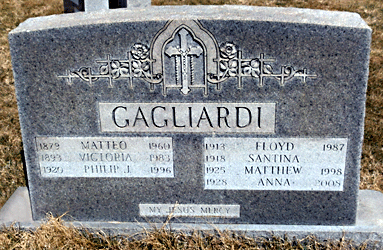 Philip passed away on February 10, 1996, and was buried in the Holy Cross Cemetery in Yeadon (Darby) PA. I want to thank Philip's son, Jim, for providing the information and photos for this tribute. Jim also provided a number of additional photos from the 661st, which you can see in the Unit Photo Gallery. Thank you also to Find A Grave contributor Aunt Aim for the use of the grave marker image.