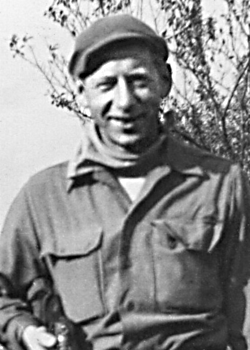 Donald P. Ganger
Biography: Donald Purl Ganger was born on November 21, 1905, in Goshen, Elkhart, Indiana. He was one of seven sons and one daughter born to Harvey Ganger and Florence May Stotts. His enlistment record indicates he completed one year of high school. On September 5, 1929, he married the former Reah E. Thomas who was born in Auburn, De Kalb, IN and was the daughter of Darrell E. Thomas and Irena P. Howell. They had one son, James Thomas. The 1930 Census indicates he was working as a meat cutter and they were living in Ligonier, Noble, IN. By 1933, he was no longer with Reah and was back in Goshen living with his mother, and several siblings, and working as a butcher in a retail meat market. In 1941 he's listed as a clerk at Warren's Market in the Goshen City Directory.
Service Time: Donald entered the Army on December 15, 1942, at Toledo, Ohio. At some point he was assigned to the 608th Tank Destroyer Battalion. The unit was formed at Fort Jackson, South Carolina in December 1941, and trained there until moving to Camp Atterbury, Indiana, on June 9, 1943. Training continued but on December 20, 1943, the 608th was deactivated and the personnel transferred to other tank destroyer units. Donald was transferred to the 607th Tank Destroyer Battalion and was assigned to Company A on December 27th.
He trained with the unit at a number of locations including: Fort Ord, Camp San Luis Obispo, Hunter Liggett Military Reservation and the Desert Training Center, all in California, along with Camp Hood, Texas and Camp Cooke, CA. While they originally trained with M10 tank destroyers, the unit was converted to a towed battalion, utilizing the M5 3" gun, on December 15, 1943.
On March 26, 1944, Donald married the former Anna Bernice Stow who was from Burt, Kossuth, Iowa, and was the daughter of James P. Stow and Cora Amanda Paine.
Arriving at Liverpool, England, on April 21, 1944, they continued training. Company A landed at Utah Beach, Normandy, France on June 17th and supported the advance on Cherbourg, fighting along the Seves River in July. They joined the drive to Le Mans and envelopment of the Falaise Pocket in August, advancing to the Moselle River in September and supporting operations against Metz through November. The unit converted to a self-propelled battalion equipped with M36 tank destroyers in time for the final assault on Metz.
Continuing the drive toward the Saar River, they participated in the attack on Saarlautern followed by the subsequent fight against the Siegfried Line in December. The unit was deployed to the Ardennes sector in January 1945 and again committed against the Siegfried Line in February in the Schnee Eifel. Supporting the capture of Koblenz, Germany in mid-March, they crossed the Rhine River at Boppard on March 25. The unit continued to drive east through Hessen and Thüringen during April.
On April 15, 1945, the unit Morning Reports show PFC Donald P. Ganger reported as Killed in Action on April 11th. On the 11th, Company A's platoons were in direct support of the 347th Infantry Regiment, 87th Infantry Division. Third platoon was supporting the 1st Battalion (347th) and, having moved through four towns, was approaching Cottendorf, Germany, when they were fired on by small arms and direct fire weapons. This fire fight lasted until darkness set in and during this action, one M36 tank destroyer was knocked out by enemy fire. Pfc. Ganger was killed at this time and it is believed he was a crew member of this TD. Four other men were wounded during the same incident but survived. He would have been awarded the Good Conduct, EAME, with credit for the campaigns of Normandy, Northern France, Rhineland, Ardennes and Central Europe, and the WWII Victory medals. He was also posthumously awarded the Purple Heart Medal.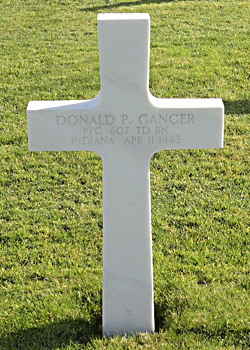 Private First Class Donald P. Ganger was temporarily buried at the U.S. Military Cemetery #1, Eisenach, Germany and on June 23, 1945, he was permanently buried in the Netherlands American Cemetery and Memorial, Margraten, Eijsden-Margraten Municipality, Limburg, Netherlands. His grave is located at Plot B, Row 5, Grave 5. We would like to thank PFC Ganger for making the ultimate sacrifice for his country. Thank you to Juergen Moeller and Andreas Moehring for providing information detailing the incident in which Donald was killed. We also thank Des Philippet for use of the overseas grave marker photo.
There is also a memorial marker for Donald, located at the Oakridge Cemetery, Goshen, Indiana.