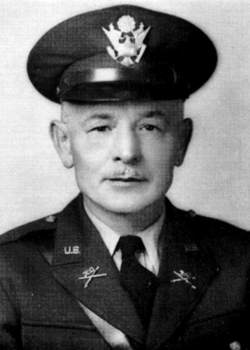 Charles W. Glover
Biography: Charles Williamson Glover was born in Blocton, Alabama, on January 26, 1895. He was oldest of three sons, born to Cato Douglas Glover Sr. and Emma Delphine Seed. His two brothers were Cato Jr. born in 1897, and Williamson born in 1905.
His Army registration card indicates that he had been serving in the Alabama National Guard and held the rank of Sergeant 1st Class.

Service Time: Charles entered the service on August 15, 1917, and served in Field Artillery units throughout his career. His first assignment was with the 81st Field Artillery, which he joined in August of 1917. During what was left of WWI, he became an instructor at the Field Artillery School at Fort Sill, Oklahoma.
Charles married the former Mary Irene Bolger who had been born at Fort Ethan Allen, Vermont and was the daughter of Alfred Bolger and Josephine Houle. The couple would have a daughter, Polly, born in 1923.
In early 1919, he was sent to Germany with the Army of Occupation, remaining there for the next two years. He then served with the 7th Field Artillery, the 16th Field Artillery, the 11th Field Artillery, the 1st Field Artillery Brigade and finally the 11th Field Artillery Brigade stationed in Hawaii. He would also spend 4-1/2 years as an instructor of the South Carolina Field Artillery National Guard and 2 years as the Professor of Military Science and Tactics at Marion Institute, in Marion, Alabama. He had also attended the University of Alabama prior to WWII.
His relationship with Mary would end and on June 21, 1927, he married the former Kathryn Ella Daughdrill, who had been born in Quitman, Mississippi and was the daughter of James Homer Daughdrill and Catherine M. Martindale. The new couple would have a daughter, Kathryn born in 1930 and a son, Charles Jr. born in 1933.
With the start of WWII, many units were activated for service, including the 46th Field Artillery Brigade while stationed at Camp Livingston, Louisiana. The 46th was made up of African-American soldiers and white officers and portions of the unit were used to form the 46th (provisional) Anti-tank Battalion. Lt. Col. Charles W. Glover was called on to command the battalion, which would be re-designated as the 846th Tank Destroyer Battalion on December 15, 1941.
By July of 1942, Lt. Col. Glover had left the unit while they were still at Camp Livingston and had moved on to other assignments. The 846th would continue training at a number of military facilities, including Camp Hood and Camp Swift in Texas, while attached to the 11th Tank Destroyer Group.
Charles passed away on August 6, 1960, and was buried in the Saint Wilfrids Cemetery
Marion, Perry County, Alabama.