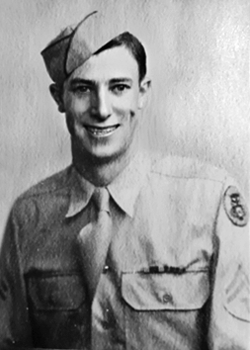 Clarence J. Godsey
Biography: Clarence Joseph Godsey was born on February 21, 1922, in Yamacraw, Kentucky. He was one of 12 children born to Rueben Godsey and Mae Belle Keith. He attended local schools through the 6th grade and then went to work in various positions, such as a farm hand, truck driver and clerk.
His enlistment record indicates he was living in Hamilton County, Ohio, prior to the war and was working as a shipping and receiving clerk.
Service Time: Clarence entered active service on January 9, 1943, at Fort Thomas, KY. After he completed his basic training, he would have been assigned to a unit for additional training. His military specialty is identified as Rifleman. We have minimal information relating to his training within the U.S., but we do know that just prior to shipping overseas, he was stationed at Camp Kilmer, New Jersey, most probably for final training and preparations for shipment.
It was during this period, while on leave from the unit, that Clarence met his future wife Ida in a restaurant near Camp Kilmer. He shipped out for Europe on September 5, 1943, and he and Ida would continue to correspond while he was overseas. He received credit for campaigns of Normandy, Northern France and Central Europe.
His discharge indicates that at some point, he had transferred to the Reconnaissance Company of the 811th Tank Destroyer Battalion. At a minimum, he served with them during the occupation period but he may have served with them earlier as well. It is noted in the unit's history that they had experienced heavy casualties during the Ardennes campaign and would have needed replacements.
Clarence shipped home on August 15, 1945, arriving on the 27th and left the service on October 13th at Camp Atterbury, Indiana. He held the rank of Technician 5th Grade and was awarded the EAME and the Good Conduct Medals.
After the war, Clarence found work as a printer and worked at a number of companies, including one located in New Brunswick, NJ and another in Freehold, NJ. In 1946, he married the former Ida Rose Guccione who was born in Brooklyn, New York and was the daughter of Vito Guccione and Maria Pellicane. The couple would have three children, Mariafrancis in 1948, Robert in 1953, and Vito "Vic" born in 1960. In his spare time, Clarence enjoyed fishing.
Clarence passed away on September 10, 1978, and was buried in St. Mary's Cemetery in Brunswick, New Jersey. I want to thank Clarence's son, Vic, for providing the photo and information used in this tribute.
In addition to his father's service, we want to thank Vic for his 4 years in the Regular Army and 15 additional years in the National Guard.