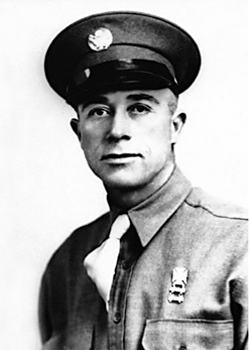 Clyde B. Gentry

Biography: Clyde Bayless Gentry was born on December 12, 1907 in Verden, Grady County, Oklahoma. He was one of two sons and three daughters born to James Henry Gentry and Anna Matilda Smith. Census forms show he completed 8th grade and was working as a pipe fitter, and later as a roughneck, in the oil fields. On September 3, 1927, he married the former Clemmie Leta Smith, daughter of Arthur King Clayborne Smith and Minnie Bell Byford. They had three sons, Jim, Bob and Ray. The couple divorced around 1940.

Service Time: Clyde entered the Army on January 5, 1943. We don't have any information on his early military service but at some point, he was assigned to Company C of the 823rd Tank Destroyer Battalion. He eventually became a gun commander, in charge of a tank destroyer and 4 additional crew members. The 823rd trained at a number of military bases including Camps Bowie and Hood, Texas, and Camp Claiborne, Louisiana, where they were located prior to participating in the Louisiana maneuvers.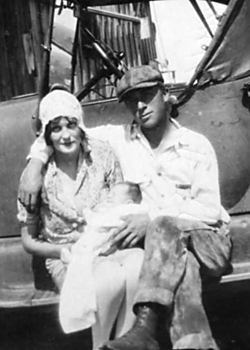 The unit boarded trains on March 9, 1944, enroute to Camp Myles Standish, and the Boston port, where they arrived on the 12th to begin their final preparations for the trip overseas. On April 6th, they loaded the U.S.S. Sea Porpoise and sailed for England, arriving in Newport, Wales, on the 17th after an uneventful trip.

The photo at left show Clemmie, holding baby Jim, and Clyde in 1929.
After some additional training and a delay, they boarded three LSTs and landed on Omaha Beach, Normandy, France, on June 24, 1944. They were equipped with 3″ towed anti-tank guns and went into action within 24 hours of their arrival. Supporting the drive on St. Lô, they fought at Mortain in August and passed through Belgium and Holland, entering Germany on September 17th.

Fighting along the Siegfried Line in October, which included the encirclement of Aachen, the 823rd converted to M10 tank destroyers beginning in November, and shifted to the Ardennes in late December, fighting to eliminate the Bulge in January, 1945.

On December 1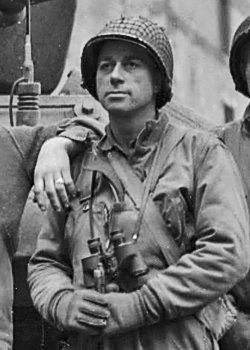 8th, Company C guns were in place to the north and east of Stavelot, Belgium. During the ensuing actions, Company C continued eliminating German troops, and destroying their equipment, and the M10 crew that Clyde commanded was credited with destroying four Panzer VI "King Tiger" tanks, belonging to s PzAbt. 501, at or around Stavelot. He was awarded a Silver Star Medal for his actions on that day.

Silver Star Citation

The 823rd continued to fight alongside the 30th Infantry Division, attached to the 117th Infantry Regiment, and on January 18, 1945, 1st Platoon of Company C had two M10 Tank Destroyers in position about a mile NNE of Recht, Belgium. An enemy mortar shell landed in the turret of one of the TD's, setting off a few rounds of the 3" TD ammunition and killing the gun commander. It is believed Sergeant Clyde B. Gentry was the man killed. He was the only casualty in Company C on that date.

In addition to the Silver Star, Clyde was awarded the WWII Victory and EAME medals with credit for the campaigns of Normandy, Northern France, Rhineland and Ardennes-Alsace. He was also posthumously awarded a Purple Heart Medal.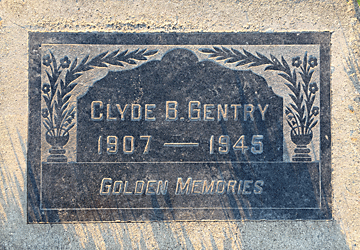 He was originally buried in a temporary cemetery in eastern Belgium but was disinterred at the request of his mother and reburied in the Rose Hill section of Greenlawn Cemetery and Mortuary, Bakersfield, Kern County, California on December 28, 1948. We would like to thank Sergeant Gentry for making the ultimate sacrifice for his country. Thank you to Clyde's granddaughter, Joanna Gentry, for providing information and photos used in this tribute. Thank you also to Raymond Gentry, Clyde's last living son, for reviewing our information to assure it's accuracy.