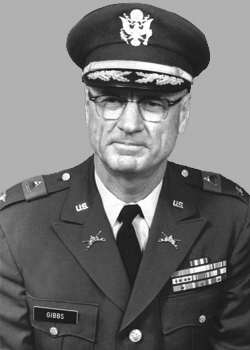 Joseph W. Gibbs
Biography: Joseph Weldon Gibbs was born on January 24, 1909, in Rosebud, Texas. He was the son of Robert Kenneth Gibbs and Willie Laurine Lucas and attended local schools, graduating from Rosebud High. He went on to attend Texas A & M University, graduating in 1932 with a degree in Civil Engineering. Joseph put his degree to good use working in the Soil Conservation Service.
He married the former Bess Allen Donaldson who was the daughter of Edgar Allen Donaldson and Francis Griffin of Rosebud, TX.

Service Time: Joseph responded to the call of duty and entered the service, ultimately becoming the Commanding Officer of the 672nd Tank Destroyer Battalion, which was activated on June 19, 1943 at Camp Hood, Texas. On April 15, 1944, while stationed at Fort Ord in California, the unit was re-designated as the 672th Amphibian Tractor Battalion and sent to the Philippines. Under the command of Lt. Col. Gibbs, the unit took part in both the Northern Solomons and Luzon campaigns and the raid to liberate the Los Banos prisoner camp. For his actions, Lt. Col. Gibbs received both a Bronze and Silver Star. The 672nd received a Distinguished Unit Citation.
Lt. Col. Gibbs was later placed in Command of the CCB (Combat Command B) of the 49th Armored Division and retired from service as a Colonel.
Back in civilian life, Joseph returned to his calling as an engineer and the Soil Conservation Service. In his spare time he enjoyed farming. Joseph died on January 8, 1965, and was buried in Fort Worth, Texas.
I want to thank Col. Gibbs son, Lt. Col. Joseph A. Gibbs (ret.), for the information on his father as well as the photos and information on the 672nd Amphibian Tractor Battalion.