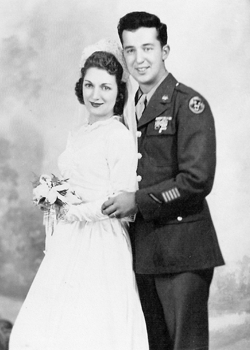 Theodore C. Gulik
Biography: Theodore "Ted" Charles Gulik was born on May 21, 1919, in Chicago, Illinois. He was the son of John (Jan) Gulik and Mary Ujasz and attended St. Anne's Grammar School in Chicago. After leaving school, Ted worked as a baker's helper, a shipping clerk and a general laborer before joining the CCC (Civilian Conservation Corps) in 1939. The CCC sent him to Idaho to work in their Division of Grazing.
Service Time: Ted entered the service officially on Mar. 5, 1941, but his military career had started more than a year earlier when he joined the National Guard and was stationed at Camp Forest, Tennessee. There, he was part of the 108th Combat Engineers until he was assigned to the 627th Tank Destroyer Battalion. From late February, 1942, they served as guards and provided defense for several areas along the U.S. west coast. They finally shipped to Hawaii on June 22, 1942, where they served as guards at numerous locations. The 627th was dismantled on Feb. 1, 1945. The gun companies became quartermaster companies and the reconnaissance company became a graves registration company. Ted ended up in the 4283 Quartermaster Depot Supply Company. The unit was officially deactivated on April 10, 1945.
Ted was back in the U.S. a few months (just long enough to get married) before shipping to the ETO and another seven months of service with the Quartermaster Company. All told, he had over three years of foreign service. He left the service on October 6, 1945, with an Expert rating on both carbine and pistol.

During those few months in the U.S., Ted married the former Mary Burek on January 13, 1945. She was was the daughter of Anthony Burek and Marya Geiffert of Chicago, where the new couple also made their residence. The Guliks had two daughters, Bonnie, born in 1947 and Michelle (adopted in 1976, age 3). Ted worked for the Allis-Chalmers and then Fiat-Allis company from 1945 to 1982. During that time, he held a number of positions including Foreman and Inventory Supervisor. In his spare time, he enjoyed playing baseball, bowling, watching movies and TV with particular emphasis on sports….the Chicago Cubs, football, hockey and basketball. In his later years, Ted was a member of the Senior Citizen Bowling Leagues.
Ted passed on October 6, 2010, at the age of 91 and was buried at the Resurrection Cemetery in Justice, IL.
I want to thank Ted's daughter, Michelle, for providing this information and the photo.