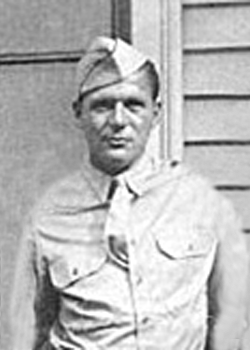 John A. Gibeau
Biography: John Albert Gibeau, "Johnny", was born at home in Methuen, Massachusetts, on December 18, 1914. He was the eldest of six children born to French-Canadian immigrants, John Felix Gibeau and Diana Grenier. Johnny attended St. Anne's parochial where he was interested in sports and music. He studied guitar, violin, piano and flute at the Cosentino school in Lawrence, MA, but his favorite for family get-togethers was the ukulele. At the age of 17, he worked as a cobbler for Walton Shoes in Lawrence. His job involved long hours behind a sewing machine, assembling shoe components.
Although the family never had a lot of money, Johnny was always particular about his appearance and was considered quite the ladies man. Going to war was the last thing on his mind.
Service Time: Johnny received his draft notice and it required some heated discussion by his father to convince him to go. His mother gave him a scapular (protective medallion) to wear around his neck. His sister Blanche gave him a hand-made Rosary for additional safety and blessing but he chose to leave them both behind to avoid losing them. Tearfully and prophetically, he announced that he would not be coming back. Johnny entered the service at Fort Devens in Essex County, Massachusetts on January 17, 1942
Five Lawrence Men at Fort Bragg Article

He was soon transferred to Fort Bragg, North Carolina, where he was assigned to the 5th Battalion, 2nd Regiment of the Field Artillery. From there it was onto Camp Blanding, Florida, and Fort Benning, Georgia, for additional training, now as a member of B Company of the 601st Tank Destroyer Battalion. While stationed at Fort Leonard Wood, Missouri, Johnny and his younger brother, Leonard, or "Leo", reunited for a last drink. It was there that they made a bet as to who would make it home first. This wager was repeated in letters between the brothers written from opposite sides of the world. Leo was shipped off to New Guinea and the Solomon Islands with the 97th and 94th Artillery Regiment.
In June of 1942, Johnny traveled to the Military Reservation of Indiantown Gap for preparations for shipment overseas. During his time there, he was given a short leave to visit his family.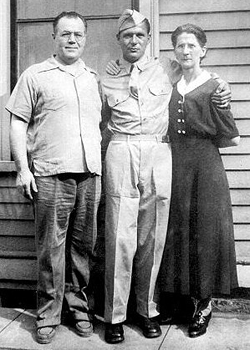 Johnny shipped out from the New York port on August 2, 1942, arriving 5 days later in Scotland. On March 23, 1943, during the battle of El Guettar, Tunisia in North Africa, Pfc John A. Gibeau was killed in action. In recognition of the fatal wounds he received, was postumostly awarded the Purple Heart. It was during this same engagement that the 601st destroyed 37 enemy tanks of the 10th Panzer Division and later received the Presidential Unit Citation for their actions. The 601st went on to receive credit for 9 campaigns.
In 1945, a young man presumed to be Alfred Dumont, who was from Johnny's company and high school, had stopped by the Gibeau home to pay his respects. The cordial but emotional visit left the family with no real information about the circumstances of the incident. Little was know about Johnny's death until 1996, when a letter from Pfc. John E. Iovino, a member of his company, explained that a heavy volley of artillery exploded near their half-track, setting it on fire. Johnny's loss devastated the family and in particular, his brother Leo.
John A. Gibeau Newspaper Obituary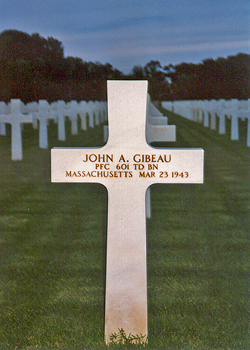 Johnny was buried in the North Africa American Cemetery and Memorial, located in Tunis, Tunisia, in plot E, row 1, grave 12. His grave marker is shown in the photo at left.
I want to salute Johnny for the ultimate sacrifice he made for this country. I also want to thank his nephew, Daniel, for providing this information and photos of his uncle.