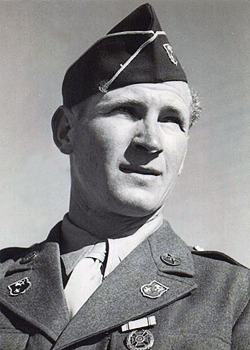 Robert L. Grannis
Biography: Robert Lloyd Grannis was born on July 21, 1918, in Waterbury, Connecticut.
Service Time: Robert entered the service in January, 1941, with the 102nd Anti-Tank Battalion (formerly 3rd Battalion, 14th Infantry of the New York, National Guard). Robert's older brother, William, "Bill", entered at the same time and was assigned to the same Anti-Tank unit. The 102nd was then redesignated as the 802nd Tank Destroyer Battalion on Dec 15, 1941.
T/Sgt. Grannis was transferred to the 653rd TD Bn as part of a cadre to start the new unit, which was located at Camp Bowie, Texas, in March of 1943. It was only a month later in April that he was sent to the 652nd TD Bn, also at Camp Bowie. From March 15th through the 20th, he and the unit would march the 108 miles to Camp Hood, Texas.
Now stationed at Camp Hood, he continued to train with the unit until he was then chosen for Tank Destroyer OCS (Officer Candidate School), graduating in their last class, number 54, in March of 1944. He was then assigned as a platoon leader in E Company, 197th Battalion, 61st Regiment at the Infantry Replacement Training Center at Camp Blanding, Florida. He was later reassigned to 'I' Company, 3rd Battalion, 12th Infantry Regiment, 4th Infantry Division at Berdorf, Luxembourg on December 12, 1944. This new assignment was just 4 days before the beginning of the Battle of the Bulge. Bill would continue with the 802nd until the end of the war.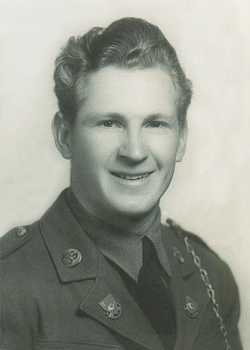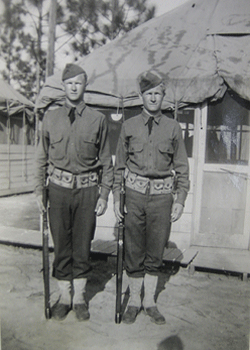 Above right, you can see Robert (on right) with his brother Bill, while stationed at Camp Shelby, MS in 1941. At the time, the unit was still known as the 102nd Infantry Anti-tank Battalion. It was later that year, in December, that the unit's designation was changed to the 802nd Tank Destroyer Battalion.
The main article photo is believed to have been taken while he was stationed at Camp Shelby, Mississippi, in 1941. The photo above left was taken while he served with the New York National Guard.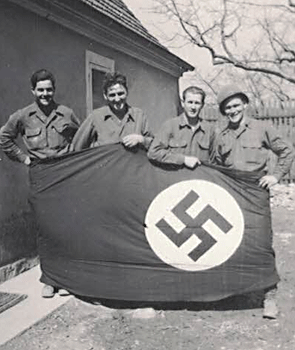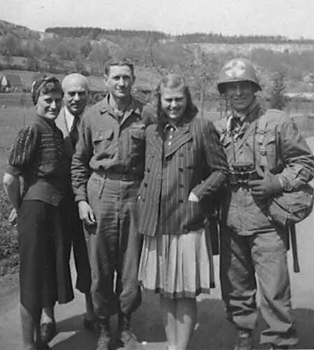 The photos above and below left were taken in early 1945, somewhere in Germany. At some point, Robert had been reassigned to "L" Company as Platoon Leader. The photo below right was taken just after he was promoted to Major and while he was serving with the First Army.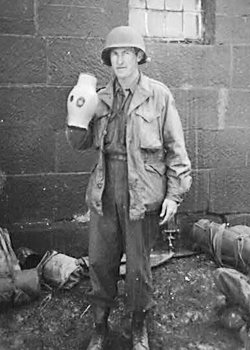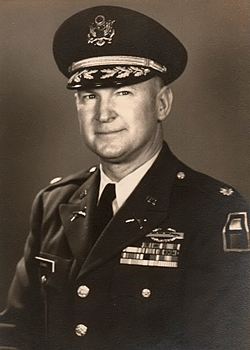 After WWII, Robert married and started a family in Lewiston, New York. He and his wife had 6 children, Tom, Bob, Lynette, John, Suzi and James. Robert went on to serve 22 years in the Army, with overseas assignments in Vienna and Linz, Austria, and the Ryukyus Command in Okinawa, as part of the JAG (Judge Advocate General).
During the Korean war, he served with the Eighth Army at Panmunjom, Korea, from 1953-54. He retired from active duty at Fort Niagara, NY, in October, 1962, at the rank of Major. He was with First Army while there.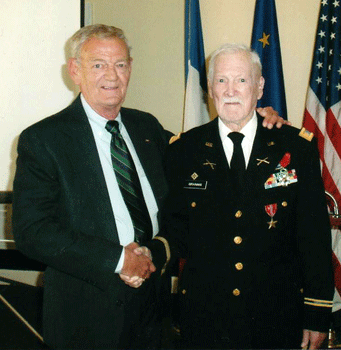 His awards include the Combat Infantryman's Badge, the Bronze Star Medal with Oak Leaf and V device, Commendation Medal with Oak Leaf, EAME Medal w/4 Campaign Stars, WWII Victory Medal, WWII Army of Occupation (Germany) Medal, National Defense Service Medal, Armed Forces Reserve Medal, American Defense Medal, American Campaign Medal, Korean Service Medal, UN Korean Service Medal and the Good Conduct Medal.
Bronze Star with Merit Citation
Bronze Star with Valor Citation
In November of 2010, Robert was was presented with the French Legion of Honor, in a ceremony held in Naples, FL. Three of Robert's sons were on hand to see the French Consul General pin the medal on him. In the photo below, you can see Robert and his son Tom just after the ceremony.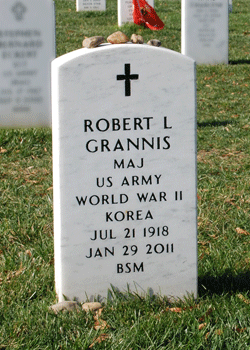 Robert passed away on January 29, 2011, and was buried at Arlington NationalCemetery in Arlington, Virginia. I want to thank Robert's son, Tom, for providing this information and photos of his father.