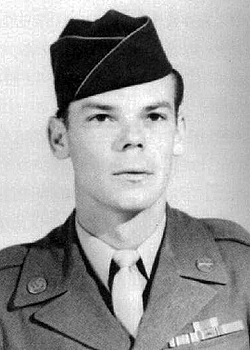 Lewis C. Gibson
Biography: Lewis Charles Gibson, who went by his middle name Charles, was born on January 2, 1922, in Enterprise, Alabama. He was the son of Edward Lee Gibson and Elizabeth "Bess" Hutchison. After graduating from high school, Charles went on to attend the University of Alabama. Like his younger brother, Herbert, Charles was eager to enlist, but obeyed his father's request to delay and continue school. As an ROTC cadet at the University, he stood a good chance of entering the service as an officer after two years of college. However, Charles soon left the University and went to work helping to construct Camp Rucker, which was located just outside of his hometown of Enterprise. He then got a job working in Panama City, Florida, on the fabrication of Liberty Ships.
Service Time: Charles was inducted into the Army in 1943. He received his initial training at Ft. Dix, New Jersey, as an infantryman but was soon assigned to a Anti-Aircraft Artillery unit on Long Island, New York. In late 1944, Charles received orders to ship overseas as a replacement. He sailed from New York City to Southampton, England, aboard the RMS Queen Mary loaded with 16,000 troops. At the time, it was the largest troop carrier of the war and it was one of the fastest ships afloat. The converted liner, designed to carry 2,000 pre-war passengers in style and comfort, was so crowded that the men spent most of their time in the chow line. Once in England, Charles reported to a Replacement Depot to await assignment to a regular unit. As an NCO, he was able to obtain a few passes to London. He remembered one afternoon spent watching a British demolition team disarm an unexploded buzz-bomb in the middle of a London street. In later years, recalling the incident, he jokingly remarked that he was too ignorant and too curious to be scared. It never occurred to him that the thing might blow up!
Early in 1945, Charles finally received orders and was transferred into the 825th Tank Destroyer Battalion. Charles was assigned as driver to a platoon commander, Lt. Harper, who he came to consider to be one of the finest officers he had ever known. Most of the time though, Charles found himself leading the Reconnaissance Company, driving ahead of the battalion as it moved across Belgium and into Germany.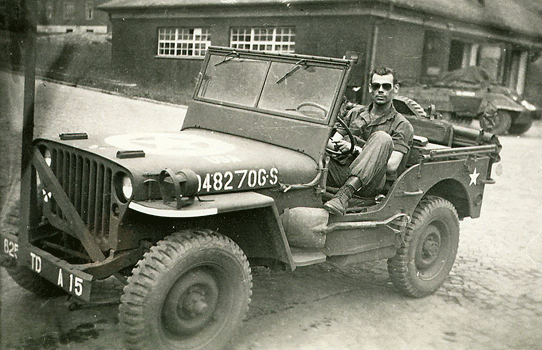 In March, 1945, the battalion took up a position in the bridgehead of the captured Ludendorff Bridge at Remagen, Germany. Their mission was to guard against the threat of counterattack as American forces streamed across the Rhine. Set up on the eastern side of the river, they had a ringside seat as German Me262 jets attempted to destroy the bridge. Thankfully, the jets were not effective as bombers and did little damage to the bridge.
By May, 1945, the 825th was in the Frankfurt am Rhine area. After the German surrender, the battalion moved into the old German Army kaserne (barracks) in Wiesbaden and settled in for occupation duty. Most of the men were counting up their rotation points in anticipation of going home, but not Charles. He had fallen in love to spite the Army's non-fraternization policy toward German civilians. Charles had accompanied a buddy on a date with a very pretty German girl named Lore Mueller. Charles was to take out Lore's sister, but when they arrived at the Mueller house and he took his first look at Lore, it was all over. He fell immediately in love, but it wasn't exactly love at first sight for Lore. It took all of Charles' persistence and persuasiveness to convince her to go out with him, and it was a long time before she began to see something special in this brash young Sergeant. Eventually, Lore fell deeply in love with Charles. They married, without official permission, and spent their honeymoon in the Alpine splendor of Berchtesgaden, Hitler's former mountain retreat. The several hundred mile trip was taken in Charles' jeep, courtesy of an unwitting United States Army.
When Charles time came for rotation back to the United States, his orders didn't include his new wife. After trying everything he could think of through official channels, he went AWOL, very briefly. Lt. Harper, knowing exactly where he was and why he was there, went to the Mueller's house and convinced Charles to go back to the Battalion. Finally, through a series of unexplained events, Charles received a transfer to the Air Force and remained stationed in Wiesbaden. In early 1947, Charles, Lore, and their baby daughter Karin, embarked on a transport ship bound for the United States. Charles left the service at the rank of Staff Sergeant.
Upon his discharge, Charles resumed his studies at the University of Alabama, receiving a degree in Mechanical Engineering. He worked for the Bendix Corporation in South Bend, Indiana, but in 1957, they decided to move their family back to Charles' hometown of Enterprise. Charles changed vocations and began raising Aberdeen Angus cattle. In the late 1960s, he took a position as Superintendent of Buildings and Grounds at the newly established Enterprise State Junior College. Charles and Lore raised four children. In 1978, accompanied by their son and daughter-in-law, they returned to Germany for the first time since leaving in 1947. At Berchtesgaden, they looked for the initials that Charles had carved into the frame of a small wooden bridge during their honeymoon thirty-two years before. They couldn't find them, but it didn't matter.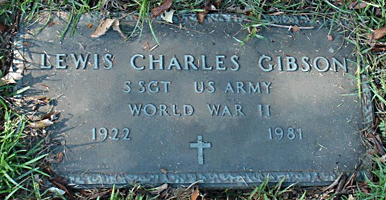 Charles Gibson died in January 20, 1981, at the age of 59. He is missed dearly by his family. I want to thank his son, Lewis Jr., for providing the photos and the biography information on his father. Thank you also to Find A Grave contributor, Arthur Fortenberry, for the use of the grave marker photo.