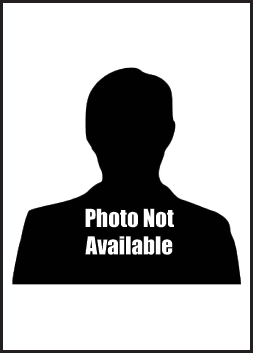 Doyle D. Grimm
Biography: Doyle D. Grimm was born on January 6, 1918, in Ossian, Indiana, which is in Wells County. He was the son of Russell Jake Grimm and Doris B. Johnson of Fort Wayne, IN, and had at least one sister, Wanda Marie Grimm. Doyle graduated high school and worked in construction prior to entering military service. He was not married.

Service Time: Doyle entered the service on March 1, 1941, at Fort Benjamin Harrison, Indiana, and was assigned to Headquarters Company of the 776th Tank Destroyer Battalion. The 776th saw action throughout North Africa and Europe, receiving credit for the Tunisia, Naples – Foggia, Rome Arno, Rhineland and Central Europe campaigns. They were attached to the 100th Infantry Division for some time and a detailed history of the 776th can be found on the 100th's website.
Selective Service Report – March 1, 1941

On May 2, 1943, during the unit's first campaign in Tunisia, Staff Sergeant Grimm died heroically when he and six other members of the battalion attempted to help with the extinguishing of a fire in a vehicle loaded with explosives. Doyle was posthumously awarded the Soldier's Medal which requires the following criteria to receive it: "The performance must have involved personal hazard or danger and the voluntary risk of life under conditions not involving conflict with an armed enemy." It is the highest honor a soldier can receive for an act of valor in a non-combat situation. His mother had been notified of his death earlier but a letter, dated August 16, 1943, was sent to her indicating he had been awarded the medal. It was signed by the Adjutant General, Major General James Alexander Ulio. The photos below show the actual named medal (#6005) sent to the Grimm family.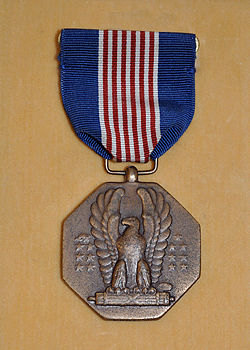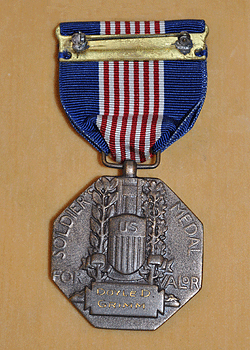 Soldiers Medal Letter to Doris Grimm – August 16, 1943
Doyle was initialy buried in Beja, Tunisia, but in 1948 he was brought home and re-interred in the New Albany National Cemetery in New Albany, IN.
I want to personally thank Keith McCormack for his assistance with this information and photos. His efforts to find Doyle's family and honor his memory deserve recognition. It is our hope that a relative can be found to provide additional information about Doyle and possibly a photo for this page. Thanks also to Tom Hubred for the information relating to the circumstances of Doyle's death.