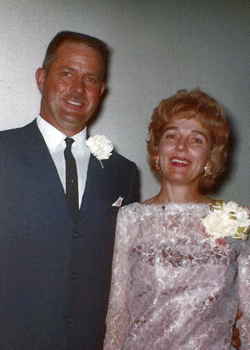 Guy J. Garretson, Jr.
Biography: Guy Jay Garretson Jr. was born on November 20, 1923, in Thermopolis, Wyoming. He was the son of Guy Jay Garretson Sr. and Minnie Ruth Lesco and graduated from Bonners Ferry School in Idaho. He worked as a logger prior to entering the service. On May 25, 1943, he married the former Billie Jean Atkins. She was the daughter of George Franklin Atkins and Naomi Georgina McDonald-Atkins. She was born in Bonners Ferry and the couple made their residence there.
The photo at left shows Guy and Billie jean in 1965.

Service Time: Guy entered the service from Spokane, Washington, on October 26, 1943. He was assigned to the 705th Tank Destroyer Battalion which landed at Utah Beach on July 18, 1944, equipped with M18's. They joined the Cobra breakout and swept through Brittany to Brest, as part of Task Force A, in late July and early August. Shifting north to the Aachen area in early December, the 705th was moved to Bastogne when the Ardennes campagin started, where their TDs participated in the famous defense by 101st Airborne Division. They also supported the drive to Rhine River in March of 1945 and crossed the river on March 29, at Oppenheim. The 705th received credit for participating in five campaigns; Normandy, Northern France, Rhineland, Ardennes-Alsace and Central Europe.
In early 1944, the Garretson family welcomed their first child, George. After the war, Guy returned to Idaho and returned to his former career as a logger. The family had four additional children, Larry, born in 1946, Jean in 1947, Guy in 1949 and Jeffery in 1953. In his spare time, Guy enjoyed restoring old cars.
Guy passed away on August 17, 1984, and was buried in Del Norte, Colorado. I want to thank Guy's daughter, Jean, for providing this information and the photo of her parents.