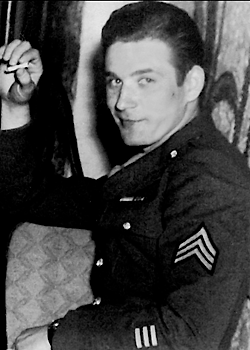 Alexander J. Gasowski
Biography: Alexander "Alex" J. Gasowski was born on October 29, 1921, in Brooklyn, New York. He was one of ten children, five boys and five girls, born to Joseph Gasowski and Cornelia Zambrowski. He attended local schools in Brooklyn, completing the 10th grade. His early work career included the garment industry.

Service Time: Alex enlisted in March of 1938 and served in the Headquarters Battery of the 187th Field Artillery Battalion of the New York National Guard. On January 28, 1941, he was discharged at the rank of Corporal so he could re-enlist for an additional 3-year period to serve with the 187th, which had now been Federalized for WWII service. At some point, Alex was transferred to Company C of the 771st Tank Destroyer Battalion and would complete his sevice with the unit. The 187th and the 771st actually shipped out from the New York post on the same day, October 21, 1943, and may have been on the same ship.
Alex received credit for participation in the Rhineland Campaign and also received the American Defense Medal and EAME Medal. C Company was awarded the Distinguished Unit Citation (later to become the Presidential Unit Citation) for their actions to secure the town of Immendorf, Germany, on November 16, 1944. Details of the event from the 102nd Infantry Division's General Order #83, which can be found on the Unit Page for the 771st.
Alex returned to the U.S. on April 19, 1945, and left the service on September 26th at Camp Upton, NY, at the rank of Sergeant. He and all four of his brothers served in WWII.

After being discharged, Alex traveled to California to see his brother John, who was a Merchant Marine. Along the way, he met Helen Amelia Wateski, who was a WAC (Women's Army Corps) stationed at The Greenbrier, which was being utilized as a 2000 bed hospital under the name, Ashfiord General Hospital. Helen worked there as clerk and typist. After a two week courtship, they were married on January 12, 1946. Helen was the daughter of Peter Wateski and Anna Salejko and was originally from Wyoming, PA. The couple made their residence in West Pittston, PA and had one daughter, Alexis, born later that year. Alex worked as a salesman throughout his lifetime.

Alex passed away on December 24, 1994, and was buried at the Saint Joseph's Church, in West Wyoming, PA. He had been a life member of the VFW

I want to thank Alex's daughter, Alexis, for providing the photo and information about her father.