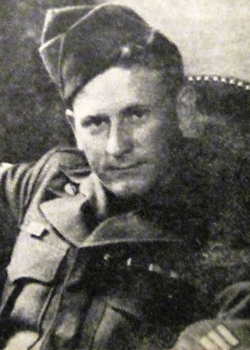 Johnnie T. George
Biography: Johnnie Therris George was born on March 30, 1923. He was the third of thirteen children born to Odell and Jewell George in Freestone County, Texas. Johnnie's father made his living as a sharecropper and Johnnie graduated from High School at Donie, Texas.
Service Time: Johnnie was drafted into the Army on December 29, 1942. After his initial training at Camp Hood, Texas, he traveled by train to Death Valley, California, and then onto Camp Maxey, located near Paris, Texas. Prior to shipping overseas, Johnnie married the former Berle Hughes on October 25, 1943.
Johnnie was assigned to A Company of the 704th Tank Destroyer Battalion and served as a TD driver. He shipped out with the unit from the Boston Port on February 27, 1944. He continued with the unit, receiving additional training while in England and then landing at Normandy on July 13th. The 704th was attached to the Fourth Armored Division through much of their service time, receiving credit for campaigns in Normandy, Northern France, Rhineland, the Ardennes and Central Europe. Additionally, Johnnie received the Good Conduct medal, the Distinguished Unit badge, a Purple Heart, the EAME Campaign medal, and the French Croix de Guerre.
At the end of the war, Johnnie was transferred briefly to the 94th Cavalry Reconnaissance Squadron until he had enough points to come home. Once back in the U.S., he left the service on September 26, 1945 at Fort Sam Houston, TX. He held the rank of Technician 4th Grade.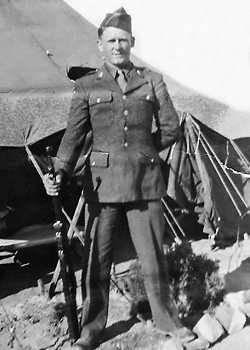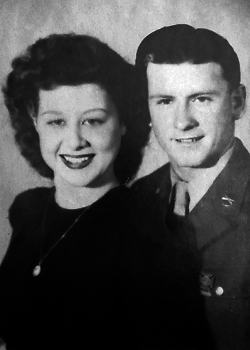 The photo on left shows Johnny while stationed at one of the training camps here in the U.S. The right photo is Johnnie and Berle's wedding photo from 1943.
Johnnie returned home to his wife and a young son who was born while he was overseas. The family made their residence in Freestone County, Texas, where he tried his hand at farming. They were there for a short time when another son was born. Then, in 1950, the family moved to Houston, Texas, and Johnnie began working for Champion Paper International as a Lab Technician. It was during this time that the family had three more children. Both Johnnie and Berle were active members of the Jacinto City Church of Christ in Houston, where Johnnie served as a Deacon. Johnnie worked at Champion until 1976 when he retired to Teague, Texas.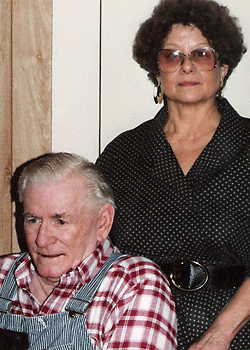 Johnnie died on March 28, 1995, at the age of 72. Surviving him were 10 siblings, his wife, five children and their spouses, eighteen grandchildren, and 13 great-grandchildren. Johnnie loved being part of a large family, coon hunting with his friends, and ranching.
I want to thank Johnnie's son, Joe, for providing this information and photos of his father.