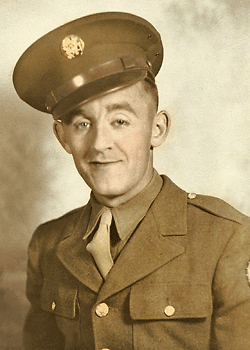 Matthew J. Golec
Biography: Matthew John Golec, "Matt", was born in Hammond, Indiana on July 5, 1918. He was the son of Paul and Agnes Golec and attended local schools through the 9th grade. His enlistment record indicates that he worked in some type of machine shop prior to entering the service.
Matt joined the Army on December 18, 1942, at Indianapolis, Indiana. On July 17, 1943, while still in training, he married the former Koluma "Kay" Certa who was born in St. Louis, MO. She was the daughter of Giovanni Certa and Lucia Perrone.
Service Time: Matt was assigned to the 809th Tank Destroyer Battalion and shipped out with them from New York, on November 30, 1944, arriving in England on December 8. In a few weeks the 809th landed in Le Havre, France, and later supported operations at the Roer, Rhine and Ruhr rivers. After conversion to the M36 Tank Destroyer, they helped clear the Harz mountains in late April. The 809th received credit for both the Rhineland and Central Europe Campaigns.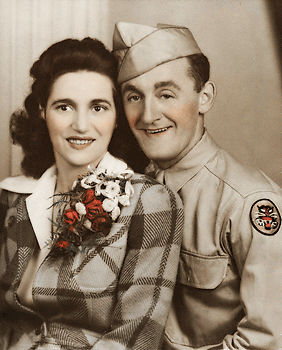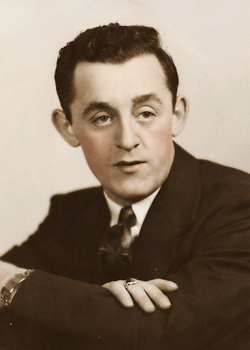 The photo above, left, shows Matt and Kay on their wedding day. The right photo was taken in 1942, probably just before entering the Army.
Matt received the American Theater Service Medal, Good Conduct Medal, EAME Medal and the WWII Victory Medal. He left the service on January 2, 1946, at Camp McCoy, Wisconsin at the rank of PFC. He had also received a Marksman rating for both the rifle and carbine.
Matt returned to the U.S. and to Kay, making their residence back in Hammond. The couple never had any children but they always had dogs and loved them dearly. Matt worked as a combustion engineer for more than 25 years and enjoyed bowling, poker and traveling, especially to Las Vegas! He also loved attending the reunions of the 809th.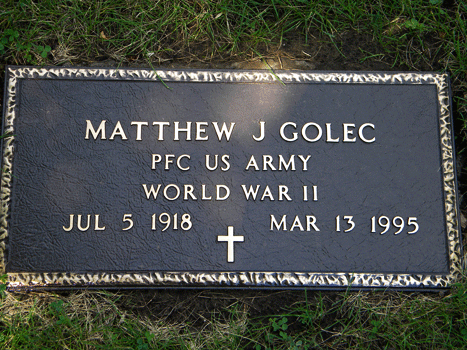 Matt passed away on March 13, 1995, and was buried at the St. John Cemetery in Hammond, IN. I want to thank Patricia Browall and John Tiltges for providing information and photos for this tribute.