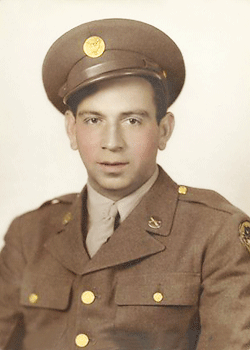 Angelo F. Giunti
Biography: Angelo Frank Giunti was born on March 11, 1916, in S'Agatha, Calibria, Italy. He was the son of Raffaele Giunti and Frances Martorelli and worked as a carpenter prior to entering the service. In May of 1941, Angelo married the former Frances Jean Laino, who was the daughter of Antonio Laino and Terisiana Greco. She was born in S'Agatha also.
Service Time: Angelo entered the service on November 23, 1942, and was assigned to the 643rd Tank Destroyer Battalion. The 643rd served in Europe and received credit for the following campaigns; Rhineland, Ardennes-Alsace and Central Europe. They arrived at Cherbourg, France, on 15 December, 1944, equipped with towed 3″ guns. Their first engagment was near Manhay, Belgium, later that same month. They crossed the Roer River on February 24, 1945, and then re-equipped with M18's, in March. The 643rd crossed the Rhine River, at Wesel, and the Elbe River on their way to Zerbst, Germany. The unit then moved to the Harz Mountains and took up occupation duties.
When the 643rd was deactivated in November 1945, Angelo was transferred to D Company of the 414th Infantry Regiment, 104th Infantry Division. He was discharged on December 4, 1945, Camp San Luis Obispo, CA, at the rank of Technician 5th Grade. He received the WWII Victory Medal, American Service Medal, EAME Medal and the Good Conduct Medal.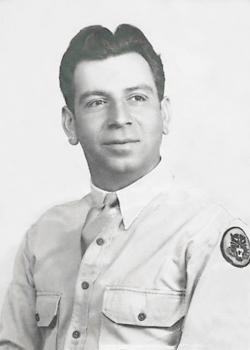 Angelo made his residence in Staten Island, New York, and returned to his former career as a carpenter. He and Frances had three children, Frank, born in 1946, Ralph in 1949 and Theresa in 1952. When he wasn't working, Angelo loved sports and spending time with his family. He passed away on July 11, 1982, and was buried in St. Peter's Cemetery, Staten Island, NY.
I was to thank Angelo's daughter, Theresa, for providing the photos and information for this tribute.