Cecil D. Gibbard
The majority of the following text was provided courtesy of the author, Gerald E. Evans "Jerry" who is the Chairman of the "Veteran of the Month" program for Charlevoix County, Michigan. Jerry is a veteran of the Korean War and has been producing these tributes monthly, for many years, since he first honored his father who was also a veteran. Since this article was published, additional material has been found and the text has been added to or changed to reflect the most accurate information available. All changes have been underlined.
————————————————————————————————————–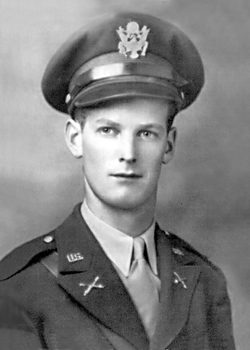 The "Veteran of the Month" for Dec. 2016 is Cecil Dortan (Durtan) Gibbard. Born on June 3rd, 1917, in East Jordan, Michigan, where he resided most of his life. Gibbard attended Central Lake, MI, Public Schools where he completed the 10th Grade.
Leaving school in 1933, at the age of 16, he went by train to St. Anthony, Idaho to work as a farm hand on various farms assisting in planting, cultivating and harvesting crops of potatoes, peas, wheat, hay and he tended livestock, drove horses and wheeled tractors.
In 1937 Gibbard attended Michigan State College taking a 13-week course in dairy testing and herd improvement. Gibbard went to work for C. W. Daw in Saint Anthony, Idaho on a potato farm.
Gibbard enlisted in the Army on December 4, 1939, at Detroit Michigan. Following Basic Training at Fort Lewis, Washington, he was assigned to the 9th Field Artillery Regiment which was stationed at Ft. Lewis as of 1940.
He attended the Parachute Field Artillery School at Fort Sill, Oklahoma and was chosen for OCS (Officer Candidate School), which he attended at Fort Sill, starting in their Class #35 on July 30, 1942, and was commissioned as a 2nd Lieutenant on October 22nd. He was then sent to the Tank Destroyer Replacement Training Center School some time before November 1, 1942, for temporary duty as a student in the Orientation Course.
He was then sent to Parachute Jump School at Fort Benning, Georgia and ultimately assigned to the 82nd Airborne Division.
On Feb. 18th, 1943, while home on leave, Gibbard married Dorothy Purdy in Central Lake and on April 29th, 1943, Gibbard departed the USA, shipping out of New York, arriving in The European-African-Middle Eastern Theater Of Operations on June 3rd, 1943 landing in Casablanca in Morocco.
(We are not sure if Gibbard served with the 603rd while station at Fort Lewis, while he was still an enlisted man or if he was briefly assigned to the 603rd after becoming any officer and taking the Orientation Course. He would have had only a few months to serve with them before leaving to get married (April 1943) and then onto Fort Benning, GA). He did not serve overseas with the 603rd)
While on an assignment in October, his Jeep driver lost control on a rain drenched slippery road just as a deuce and a half (truck) rounded a corner and hit them head on and Gibbard broke his right femur. His was initially diagnosed with not only the broken femur but also injuries to his face and forehead along with pneumonia. After spending time in field hospitals, on March 7th, 1944 he departed The African-Middle Eastern Theater arriving in the USA on March 18th, 1944 and was hospitalized in Charleston, South Carolina. After six months Gibbard received orders to report to the Advanced Paratrooper Training Regiment at Fort Benning for limited duty as the Supply Officer of a training company and was discharged from the hospital in September 1944.
Gibbard put in for a promotion to 1st Lieutenant that was approved. He went back into the hospital in May 1945, and it was determined that his earlier injury to his femur had contributed to diagnoses of Anklosis (an abnormal stiffening and immobility of a joint due to fusion of the bones). He was discharged from the Regional hospital in July and went before a retirement board for a disability discharge, which was granted on September 7th, 1945 at Headquarters & Service Company, 2nd Parachute Training Regiment, Army Hospital, Fort Benning, GA. Gibbard was relieved from active duty and was awarded a Campaign Ribbon with 1 Bronze Battle Star and the America Defense Service Medal.
Returning home he moved his family to the Clarence Daw farm in Idaho as Daw had offered Gibbard year around work and a house for his family. Returning to the Michigan family farm, Gibbard raised Herford cattle, built the Pleasant Valley Ski Tow in the late '50s with a warming cabin, snack bar, three rope tows with weekly slalom races and an ice skating rink. He actually donated time at the facilty as coordinator and manager. He was also part owner of the Pleasant Valley Fish Farm.
Gibbard served as president of Beef Breeders Association, director of the East Jordan Chamber of Commerce, was a member of the American Legion and was awarded the Father of the Year in 1961 by the Rotary Club. In 1989 he and Dorothy retired to Las Vegas, Nev. and on June 2nd, 1994 Cecil Dorton Gibbard answered the final call and was interned in Fort Logan Veterans Cemetery in Denver, Colo. and is being honored by his children Carol, James and their families.
————————————————————————————————-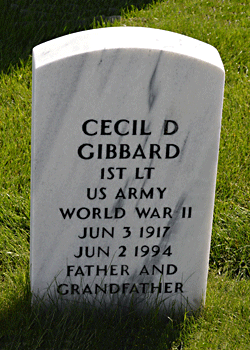 Some additional information we were able to find indicates that Cecil was the son on George A. Gibbard and Vivian Wilson. On February 18, 1943, he married the former Dorothy L. Purdy at Central Lake in Antrim County, MI. Dorothy was born in Butte, Montana, and was the daughter of Herb Purdy and Marie Ludbrook. Thanks to Jim Moore for making us aware of this veteran and a special thanks to Col. Chuck Schubert, USA retired, for the use of the grave marker photo.