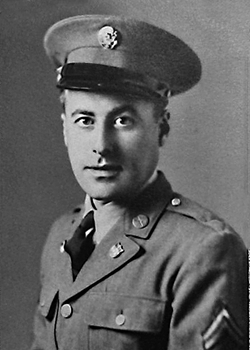 Manuel M. Gelao
Biography: Manuel Matthew Gelao was born on January 9, 1915, in St. Paul, Minnesota. He was the son of Nicola "Nick" Gelao and Margherita "Margaret" Santamato and attended St. Michael's Grade School. He later worked at the Armour and Company meatpacking plant in South St. Paul. The Armour and Company building was the largest meatpacking plant in the world when it opened in 1919. At its peak, the facility had 4000 employees. In his spare time, Manuel enjoyed playing guitar and working on cars.
Service Time: Manuel entered the service and, after his initial training, was assigned to Company C of the 634th Tank Destroyer Battalion. The unit shipped out from the New York port on December 29, 1943, and arrived in England on January 8, 1944. On June 30th, the battalion landed on Utah Beach in the vicinity of Adouville la Hubert, France.
The 634th was equipped with M10s and was committed to battle on July 10th near Carentan. They participated in the Cobra breakout in late July and were widely separated into elements, helping capture Mayenne and defeat the Mortain counteroffensive in early August. Racing east to Mons, Belgium, they supported operations against the Siegfried Line and the capture of Aachen, Germany, in October.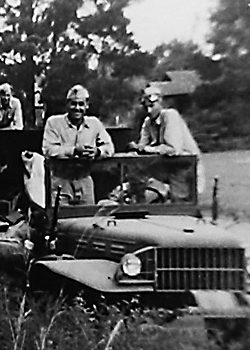 The photo at left shows Manuel on maneuvers in Louisiana in 1942.
On the morning of October 16, 1944, while the unit was still in the midst of actions at Aachen, Sgt. Manuel M. Gelao met with his platoon commander. At the conclusion of their discussion, he went back to his tank destroyer and saw four Germans coming out of the woods. He started towards them, thinking they wanted to surrender. Machine gun fire rang out toward the Germans and they returned fire hitting Manuel twice and killing him instantly. Another member of his crew was also hit and seriously injured in the firefight.
A letter sent to Manuel's sister, Lillian, from the unit's chaplain Robert J. Curtis, provides the circumstances of his death. The text of that letter was published in The Armour Star Newspaper, in January 1945.
The Armour Star Newspaper – January 1945
Manuel was temporarily buried in Europe and later brought home to St. Paul. He was re-interred in the Calvary Cemetery on December 10, 1947. He posthumously received the Purple Heart, denoting his ultimate sacrifice.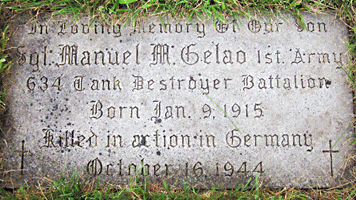 I want to thank Manuel's nephew, Ken, for providing photos and information for this tribute. Grave marker photo used by permission.