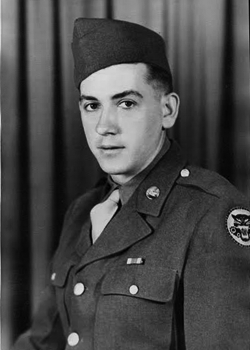 Dill A. Gardner
Biography: Dill Armstrong Gardner was born on April 25, 1921, in York Springs, Pennsylvania. He was the son of Charles Franklin Gardner and Leda Ann Fickel and attended local schools through the grammar level. He later worked as a spot-welder for the Frog Switch & Manufacturing Company in Carlisle, PA.
Service Time: Dill entered the service on January 7, 1943, at Harrisburg, PA. During his initial training, he qualified as an Expert with the Thompson Sub-Machine Gun He was assigned to the second destroyer, 2nd platoon, Company C, of the 817th Tank Destroyer Battalion and shipped out with them on July 24, 1944, from the Boston port of embarkation. They arrived at Greenock, Scotland, on July 31st, and after a few weeks of training and final preparations, they boarded transports and landed at Utah Beach on August 25th.
They took up rear-area security duties in France and Belgium and guarded the COMZ (Communication Zone) from August through November. The 817th then entered battle in the Hürtgen Forest with the 8th Infantry Division on December 9th. Shifting to the Ardennes in February, 1945, they moved back to the Roer River sector to fire as artillery.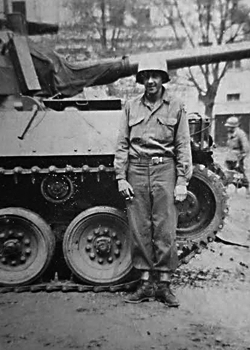 The unit participated in the advance to the Rhine River with the cavalry and crossed at Remagen on March 15th. They were the only towed TD battalion to enter the bridgehead and almost immediately began conversion to M18s on March 26th.
They joined the 104th Infantry Division at the Ruhr Pocket in April and two companies joined the drive eastward from Marburg in mid-April, fighting in the Harz Mountains. Their final actions were helping to capture Halle and advancing to the Mulde River where offensive operations ceased. Dill received credit for the campaigns of Northern France, Ardennes-Alsace, Rhineland and Central Europe.
He was awarded the EAME, American Theater, WWII Victory and the Good Conduct Medals. He returned to the U.S. on December 27th and was discharged on January 1, 1946, at the Indiantown Gap Military Reservation, PA, at the rank of Technician 5th Grade.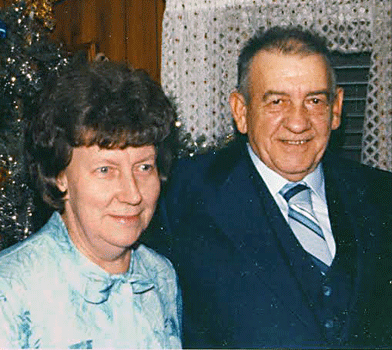 Honorable Discharge
Dill went back to work at the Frog Switch and Manufacturing Co., and on June 11, 1948, he married the former Alice Mae Moose who was born in Aspers, Adams County, PA, and was the daughter of Charles Cassatt Moose and Lillie Irene Pottorff.
The couple made their home in York Springs, PA, and had three children, Robert, Sandra and Joan. In his spare time, he loved spending time in the outdoors and was an avid hunter. He also enjoyed working on his car.
Dill passed away on February 16, 1983, and was buried in the Mount Victory Cemetery in Cumberland County, PA. I want to thank Dill's daughter Joan for providing the photos of Dill and Dill's great-grandson, Jacob, for providing the information for this tribute. Dill's grave marker photo is shown by permission.