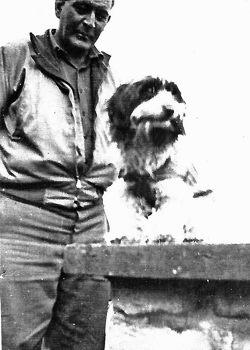 Bernard F. Gallagher
Biography: Bernard Francis Gallagher was born on September 1, 1905, in North Walpole, New Hampshire. He was a son of Dennis J. Gallagher and Ellen Gallagher. He was living in Windham County, Vermont, prior to the war. He attended local schools through the 9th grade and prior to entering the military, he worked as a laborer at the Moore and Thompson Paper Company. He also served in the National Guard.
Service Time: Bernard entered the service on September 15, 1942, at Rutland, Vermont, and after his initial training was assigned to Company A of the 825th Tank Destroyer Battalion. He trained at Fort Gruber, Oklahoma, and to Fort Bowie and Camp Hood, both in Texas.

The photo at left shows Bernard with the unit's mascot, Daisy.
The 825th sailed from the New York port on May 30th, 1944, aboard the Queen Elizabeth, arriving in Scotland on June 5th. After an additional 2 months of training, the men and equipment were loaded on LST's and arrived on Utah Beach in Normandy, France. They were equipped with 3″ towed guns and initially assigned to the Communications Zone, performing 12th Army Group security duties between August and December, 1944.
The battalion entered combat near Malmedy, Belgium, on December, 17th. The next morning, two 3" anti tanks guns of A Company's Lieutenant Jack Doherty's 1st and 2nd Sections, 1st Platoon, were knocked out by Kampfgruppe Peiper (formation led by Waffen SS Officer Joachin Peiper) after crossing the Amblève River bridge at Stavelot. They made contact with the enemy and 1st and 2nd Section were unable to reach the positions designated, due to enemy fire. When they attempted to withdraw and take up positions to return enemy fire, they were hit by direct fire from the Germans. The M3 vehicle of Sgt. John G. Armstrong's 1st Section was hit by a German mortar shell. The German SS troops used a burp gun (a lightweight submachine gun) to kill Armstrong and part of his crew, who were trying to get out of the burning vehicle. Tony Calvanese and Léo Brunette were the only men that managed to get out of the halftrack and escape capture. Second Section's gun and half-track were also knocked out but the men were able to escape and seek refuge in nearby houses. Pvt. Bernard F. Gallagher was killed but he was initially listed as MIA (Missing In Action). Pvt. Conley Leach, Pvt. Frank Richesin, Pvt. Douglas Newman and Pvt Fowler Willams were also killed.
Bellows Falls Times Article – January 11, 1945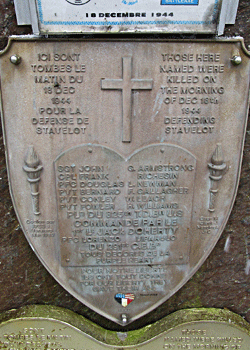 Bernard received the Purple Heart postumously and his name was added to the Tablets of the Missing at the Ardennes American Cemetery, Neupre, Belgium.
The photo shown at left is a monument erected, and paid for, by Marcel Ozer to memorialize the men that lost their lives at Stavelot, Belgium, including Pvt. Gallagher. I want to thank Serge Lemaire for providing the photos and information for this tribute.