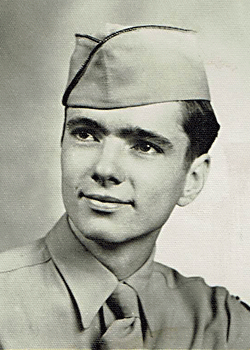 Kenneth D. Haak
Biography: Kenneth Daniel Haak, "Ken", was born in Glendale, California, and was the son of Arthur Henry Haak and Winnie May Blackburn. He attended Glendale High School, graduating in 1941, and then furthered his education at the Woodbury Art Center in Los Angeles, CA. He worked as an attendant at the Glendale Library prior to the war.
Service Time: Ken entered the service on January 8, 1943, and, after his basic training, was assigned to the 821st Tank Destroyer Battalion.
The unit shipped out from the Boston port on April 6, 1944, arriving in England on the 17th. After a few months of additional training and final preparations, they boarded transports, crossed the English Channel and disembarked at Omaha Beach on June 26th with towed 3-inch anti-tank guns. They supported the capture of St. Lô and subsequent breakout, entering Brittany in August. They then supported the capture of Brest by September 18th and moved east, in late September, to Holland.
The 821st conducted operations against the Siegfried Line in October near Aachen, Germany, and then transferred to Ubach, Germany, in November, supporting the drive toward the Roer River. Beginning in December, they converted to M10 self-propelled tank destroyers and then crossed the Roer River beginning on February 23rd, 1945. They were withdrawn from line during March and then marched east to the Elbe River. The unit took up occupation duties on April 27th.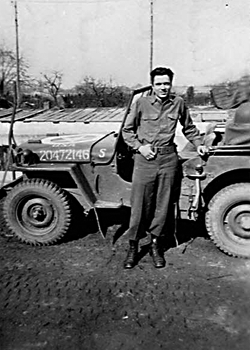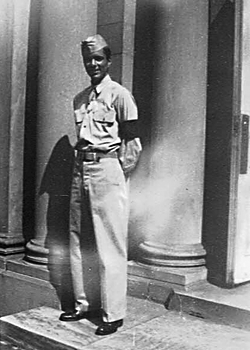 During the occupation, Ken's art skills were called upon to create a "Travel Map" of the unit's movements while overseas. The map includes some small illustrations showing a number of the locations where the unit trained in the U.S. The map also includes a history of the unit. The 821st received credit for campaigns in Normandy, Northern France, Rhineland and Central Europe. Ken left the service at the rank of Technician 5th Grade.
After the war, Ken found work as a Commercial Artist and Fashion Photographer, living in New York City, NY. Some of his work included promotional material for the New York Times. He was also a world traveler. He passed away on June 20, 1991, and his ashes were kept by the family. Efforts are currently in the process to have his remains interred in the Bakersfield National Cemetery, in Arvin, CA.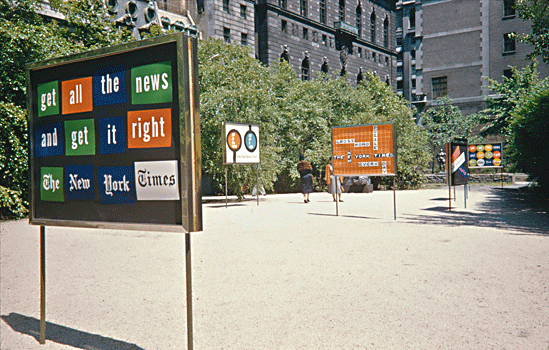 The photo above is an exhibition of New York Times posters which include some of Ken's work. I want to thank Ken's nephew, Steve, for providing the information and photos for this tribute.