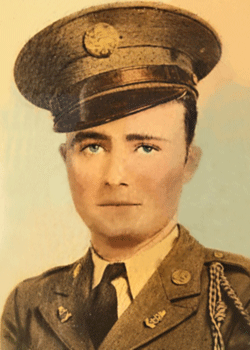 Robert F. Holt
Biography: Robert Franklin Holt, "Bob", was born on September 22, 1916, in Casey County, Kentucky. He was one of three sons and one daughter born to Joseph W. Holt and Artie E. Baldock. His enlistment record indicates he completed grammar school and was working as a farm hand at the time he entered the military.
Service Time: Bob entered the Army on April 4, 1941, at Louisville, KY. At some point, he was assigned to the Reconnaissance Company of the 638th Tank Destroyer Battalion. The unit was formed at Camp Shelby, Mississippi, and trained there along with numerous other locations including Camp Hood, Texas, the Louisiana Maneuvers (twice), Camp Claiborne, LA, Camp Carabelle, Florida, where they trained for amphibious landings, Camp Livingston, LA, the Desert Training Center, California, where they trained on the new M18 tank destroyers, and Camp Gruber, Oklahoma.
While on leave, Bob married the former Leona Scales, who was the daughter of Christopher Columbus Scales and Letha Marie Foley. The new couple would have a son, Bobby Lee Holt, born on July 30, 1943.
Before going overseas, they moved to Camp Kilmer, New Jersey, for final preparations. On August 30, 1944, they shipped out, arriving in France on September 7, 1944, and offloading in the Cherbourg Harbor on the 9th.
They entered the line at Geilenkirchen, Germany, attached to the 84th Infantry Division and supported operations against the Siegfried Line before moving to the Ardennes sector around Rochefort, Belgium, on December 22, 1944. The unit continued fighting to reduce the Bulge during January, 1945, and supported the crossing of the Roer River, at Linnich, in February. They reached the Rhine River, at Homberg, 45 days later, finally crossing on April 1 at Wesel.
On April 5, the 84th ID Regimental Commander ordered the 2nd Platoon, Reconnaissance Company, to reconnoiter west of the Weser River, and north of Bad Oeynhausen, to the 335th Inf. Regiments bridgehead south of Minden, Germany. The platoon was fired on by enemy 88 mm guns from across the river. One M-8 armored car was hit repeatedly by the rounds and the four crew members were all killed. It is believed that Bob was a member of this crew. Artillery fire was so intense that the Regimental Commander cancelled the mission.
Bob was awarded the Good Conduct, WWII Victory and EAME medals with credit for the campaigns of Northern France, Rhineland, Ardennes-Alsace and Central Europe.
Private First Class Robert F. Holt is buried in the Salem United Methodist Church Cemetery, Liberty, Casey County, Kentucky. We would like to thank him for making the ultimate sacrifice for his country. Thank you to Paula J. Mood, who provided the main image of Bob. Paula was raised by Bob's brother Chester and his wife. She grew up seeing "Uncle" Bob's portrait, hanging in a place of honor, in their household. Thank you also to Find-A-Grave member Rochelle Riordan for providing the grave marker photo.