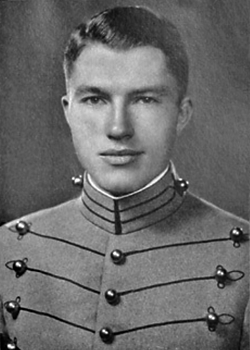 Henry P. Heid, Jr.
Biography: Henry Patrick Heid Jr., "Pat", was born on July 29, 1917, in Twentymile Park, Routt County, Colorado, on the family homestead. He was the son of Henry P. Heid Sr. and Gladys E. Roberts and graduated from local schools in Steamboat Springs, CO.
He attended one year at the University of Colorado before he was appointed to the United States Military Academy at West Point, New York. On March 10, 1943, he married the former Virginia Dulaney, from Atlanta, Georgia, daughter of Landon C. Dulaney and Virginia L. Urion.
Service Time: Pat entered West Point on July 6, 1936 and graduated as a 2nd Lieutenant (Cavalry) on June 11, 1940. By the summer of 1942, he was a Captain and serving as the Adjutant to the Regimental Commander of the 37th Armored Regiment, Camp Pine, NY. The regiment was part of the 4th Armored Division (4th AD). In October 1942, they participated in the Tennessee Maneuvers, later moving to the Desert Training Center, California, in November.
On September 10, 1943, the 37th AR was reorganized, and parts of the unit became the 37th Tank Battalion. Now a Major, Pat was assigned to the new tank battalion. The 4th AD, including the 37th, shipped out on December 29, 1943, landing in England, January 8, 1944. Following more training, they landed on Utah Beach, Normandy, France, eventually entering combat on July 28th. The 37th was part of Combat Command A (CCA)/4th AD. In September, units of the 704th Tank Destroyer Battalion were fighting alongside CCA when their commanding officer was killed in action.
On Sept. 20, now a Lt. Col., Pat was assigned as the new Commanding Officer (CO) of the 704th. He held this position until October 1 when another officer of the 704th was assigned to the position. Pat left the unit and was assigned as the CO of the 8th Tank Battalion, 4th AD. In early Oct., he received a shrapnel wound in his leg, resulting in his evacuation to England. He was awarded a Silver Star, Bronze Star and Purple Heart Medals. In April 1948, Pat was promoted to full Colonel and received a medical discharge from the Army.
That same year, he went to work for Robinson-Humphrey Co., investment bankers. He passed away on March 22, 1953, in St. Louis, Missouri, and was buried at the United States Military Academy Post Cemetery, West Point, Orange County, NY, Section VIII, Site 66.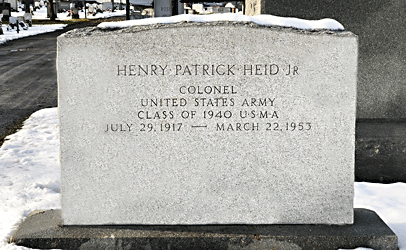 We would also like to thank E-Yearbook for the photo of Henry, as a cadet, at West Point. The photo is used by permission of Digital Data Online, Inc. Thank you also to Find A Grave contributor, Shamrocks, for the use of the grave marker photo.