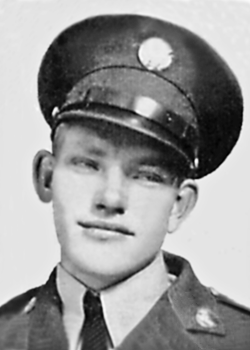 Lawrence N. Harris
Biography: Lawrence Nelson Harris, "Nelson", was born March 16, 1920, in Elkwater, Randolph County, West Virginia. He was one of three sons and three daughters born to George W. Harris and Bertha E. Wiseman. His enlistment record indicates he had attended grammar school and was working as a farm hand.
Service Time: Nelson entered the Army on January 23, 1942 at Fort Hayes, Columbus, Ohio. At some point, he was assigned to the 773rd Tank Destroyer Battalion and eventually became a crew member on an M10 tank destroyer in Company C, 1st Platoon, commanded by Sergeant Ernest C. Rabe. On October 9, 1944, around 0650 in the morning, 1st platoon was supporting the 3rd Battalion, 315th Infantry Regiment, 79th Infantry Division, in the Foret de Parrot, Northeast of Luneville, France. They encountered heavy, enemy high explosive fire at 0715 and pulled back. At that time, their TD was hit and set afire, blowing Sgt. Rabe and T5 Peabody out of the vehicle. The other three crew members, including Nelson, were listed as Missing in Action (MIA). The men were eventually listed on the Tablets of the Missing, Epinal American Cemetery and Memorial, Epinal, Department des Vosges, Lorraine, France.
The following text is from an article in The Inter-Mountain, Elkin, West Virginia, dated October 5, 2010:
The military declared the men dead and unrecoverable the day after the assault on them. It wasn't until November of 1946 that personnel of the U.S. Army Graves Registration Command removed the remains from the destroyed M-10 tank. The remains of the three soldiers were then transported and buried in Neuville-en-Condroz, Belgium as unidentified soldiers.
In July of 2003, a French national exploring the Parroy National Forest in eastern France found human remains and other materials including an identification bracelet bearing the serial number of one of Pfc. Harris's crew mates. This led to further investigations from the U.S. Army from 2006-2008. During this time, further exhumations of the M-10 tank site produced further identification evidence which led to the grave in Belgium being exhumed and all remains being forwarded to Hawaii for DNA testing for final identification of remains. After the DNA testing was completed and the identification process was done, Pfc. Harris and his fellow crew mates are now able to be laid to rest in the country for which they laid down their lives.
Pfc. Nelson Harris will be laid to rest in the West Virginia National Cemetery at Prunytown on Oct. 8 at 1 p.m. with military graveside rites accorded by the Taylor County Honor Guard and Camp Dawson Honor Guard. Davis -Weaver service. End.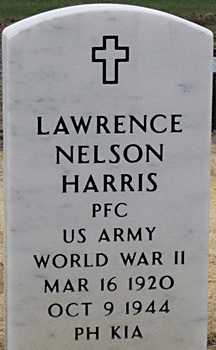 We would like to thank Pfc. Lawrence N. Harris for making the ultimate sacrifice for his country. We would also like to thank Find A Grave contributor zuzu's petals for use of the grave marker photo.