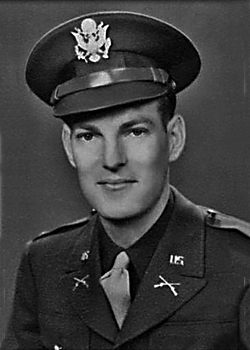 Lewis R. Hubbard
Biography: Lewis Royal Hubbard was born on February 6, 1913, in Commanche, Oklahoma. He was the son of Lucius M. Hubbard and Flora A. Phillips and graduated from Classen High School, in Oklahoma City. Lewis' father, who was a Civil War Veteran (1st. Lt. Co. C, 39th Ohio Infantry) passed away in 1914, leaving five children. Lewis was only eighteen months old at the time of his father's death.
After graduating, Lewis worked as a clerk for the telegraph office. Lewis married the former Mary Amelia Pfotenhauer who was from Oklahoma City and was the daughter of William F. Pfotenhauer and Mary Finnigan. The new couple would have two children, a daughter Mary Alice, born in 1939, and a son William Lewis.
Just prior to the war, the family was living in Memphis, Tennessee and Lewis was employed by the Ryan and Beckman Construction Co.
Service Time: Lewis entered the service on June 4, 1942, and initially trained at Camp Wolters, Texas, and then was sent to Camp Hood, also in Texas, to attend OCS (Officers Candidate School). He would also receive some training to defuse mines.
He shipped overseas in June of 1943, and was ultimately assigned to the 894th Tank Destroyer Battalion, who had already been there for 10 months. Lewis probably joined the unit, as a replacement, while they were still stationed in North Africa. The unit had been committed to battle on February 20, 1943, at Kasserine Pass in Tunisia and supported the capture of Bizerte.
The 894th landed in Italy in late October, 1943, and were located in vicinity of Pignataro in the Migniano sector as of December. They transferred to the Anzio beachhead on January 25, 1944, where the battalion mainly supported British troops. The unit entered Rome in June and it is identified that Lewis had been wounded at some point and received a Purple Heart.
The 894th was camped near Colle di Val d'Elsa in mid July. German troops had been forced out of Poggibonsi by troops of the 4th Moroccan Mountain Division. Poggibonsi is located just a few miles from the town on Montemorli. The German paratroopers had been pushed back to the hills beyond the Elsa River and the Staggia torrent. On the morning of July 17th, Lt. Hubbard and four other soldiers were riding in a jeep and headed toward an intersection near Montemorli. Near the intersection was a well used by the townspeople for drinking water and for cooking. The Germans had left a number of mines and booby traps behind in an effort to kill both allied troops and civilians. As mentioned before, Lewis had received some training with mines and took on the task to disarm it so that no one else would be harmed. Sadly, the mine exploded, killing 2nd Lt. Lewis R. Hubbard and injuring some of the other soldiers as well.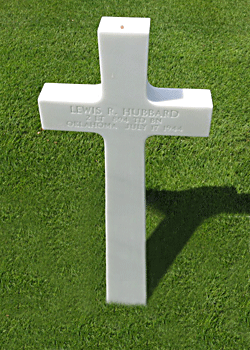 Lewis was buried in the Florence American Cemetery, in Florence, Città Metropolitana di Firenze, Toscana, Italy, Plot B, Row 5, Grave 33.
Lewis' daughter, Mary Alice Hubbard, contacted town officials for the Municipality of Poggibonsi, which is in the province of Siena, asking for information relating to her father's death. The municipality's Culture Office took charge of the investigation and the Poggibonsese Historical Association, with historian Claudio Biscarini and Marco Panti, worked to reconstruct the circumstances of the incident.
On January 18, 2020, a ceremony was held to honor Lt. Hubbard for his sacrifice. Attending the event was his daughter, Mary Alice Hubbard Renner, as well as his granddaughter Linda, with their spouses. Also present was Angel Matos, Director of the American Cemetery in Florence and Benjamin V. Wohlauer, representing the Consul General of the United States in Florence and David Bussagli, Mayor of Poggibonsi.
I want to thank the Hubbard family for the use of the photo of Lewis and to Michael Beach for the grave marker photo. I also want to thank Lorenzo Tonioli and Claudio Biscarini for their assistance with the tribute.