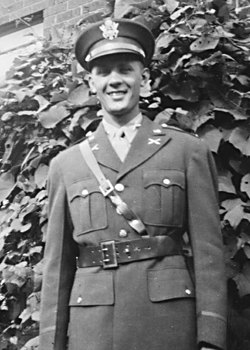 John A. Hauth
Biography: John Adam Hauth was born on March 19, 1915, in Trafford, Pennsylvania. He was the son of Adam and Helen Hauth and graduated from Trafford High School in 1933. His siblings were Robert, William 'Bill', Katherine, and twins Howard and Helen. He continued his education at Slippery Rock Teacher's College, receiving his B.S. in 1937.
John worked as a high school math teacher and coached both soccer and basketball.
Service Time: John entered the service on July 8, 1941, at New Cumberland, PA. Although he was single when he went into the Army, he married the former Grace E. Leach, while on leave. Grace was the daughter of Carl and Erdine Leach and the new couple had a son, John Carl, born in 1942.
After his initial training, John was chosen for OCS (Officer's Candidate School) and graduated as a 2nd Lieutenant in the Field Artillery. He was then assigned to Company C of the 818th Tank Destroyer Battalion. The unit trained at a number of military installations including Fort Sill, Oklahoma, Camp Hood, Texas, and Mansfield, Louisiana, where they took part in large scale maneuvers.
They moved to Fort Dix, New Jersey, and then Camp Shanks, New York, for final preparations prior to shipping overseas. The men boarded ship and departed on October 21, 1943, arriving in Northern Ireland on November 1st and began training for the upcoming invasion. They boarded transports on July 11, 1944 (D+36) and landed in France on the 14th with M10 tank destroyers.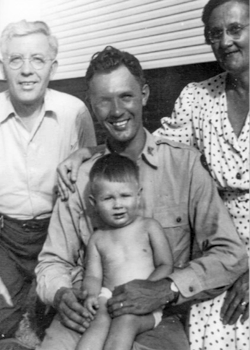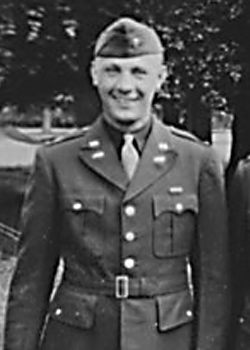 The photo at left is John, while on leave from his unit, with his parents standing behind him while he holds his young son. The photo at right is after he had been assigned to the 818th.
The unit advanced across France during August and September to the area of Metz, then supported operations along the Saar River until December. They then transferred to the Ardennes sector and participated in the race across Germany beginning in March, 1945. The 818th converted to M36 tank destroyer's prior to mid-April and ended the war in Kienberg, Czechoslovakia. John was awarded the Bronze Star and left active service at the end of the war.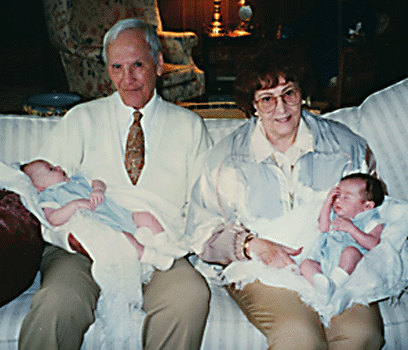 After returning to the U.S., John remained in the Army Reserves and worked as a civilian with the Army Missile Command in Pittsburgh, PA. He went back to school and received his law degree from Duquesne University, also in Pittsburgh. He retired from the Army Reserves at the rank of Lt. Colonel.
In the photo on left, John and Grace are holding two of their great-grandchildren, twins Patrick and Taylor.
The family moved to Huntsville, Alabama, so John could work at the Redstone Army Arsenal and the NASA Missile Program. It was there that he served as legal counsel and contracting officer under Werner Von Braun and on the team that developed the Saturn booster rocket. Braun was a German scientist who became an American aerospace engineer. He was a leading figure in the development of rocket technology in Germany and then a pioneer of rocket and space technology in the United States. John continued with the program when it was moved to Cape Canaveral, Florida, and later renamed Kennedy Space Center. He retired from NASA in 1977, as a GS-14.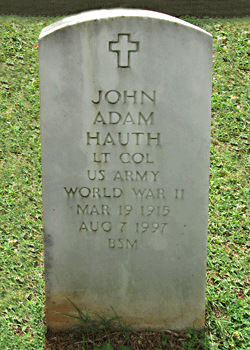 In his spare time, John enjoyed playing golf. He passed away on August 7, 1997, and was buried in the Maple Hill Cemetery in Huntsville, AL.
In addition to John's military service, three of his brothers also served. Robert and Bill served in WWII in the Navy on various ships, including the Destroyer Stark. Howard, the youngest, served in the USAF during the Korean conflict in Japan and Korea.
The family's military traditions continued as John's son John Carl graduated from the US Air Force Academy (USAFA) in 1964, and attended the University of Alabama Medical College in Birmingham. He married Francis Jane Majors, whose father, Julius Elton Majors served in WWII in the Army. His highest rank held was Major and he died in Korea in 1962, during the occupation. John Carl retired as a Colonel in 2011, and you can find out more about him at this link. John Carl and Jane had two sons, Christopher and Stephen. Stephen had twins Patrick and Taylor, a son David, and another set of twins James and Jacob.
Chris also had a military career, graduating from the USAFA in 1988. He was a Logistics Officer with tours in Saudi Arabia, Japan, Iraq and Afghanistan. Chris married an Indian immigrant, USAF Second Lieutenant Shyamali Armstrong, and they had Mina 'Nyx' Basonti Hauth. Chris retired as a Colonel in 2014.

I want to thank John's grandson, Christopher, for providing the information and photos for this tribute. Thank you also to Tom Ramby for the use of the grave marker image.