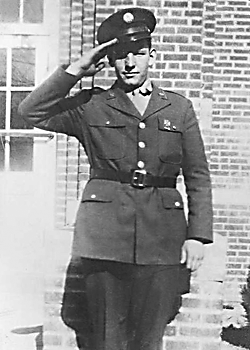 Val M. Harris
Biography: Val Murrie Harris was born on February 15, 1922, in Dexter, Calloway County, Kentucky. He was the son of Murrie Edmond Harris and Neta Jane Elliot. His father's first wife died in 1919 and Val grew up with five siblings from his father's previous marriage.
By the 1930 census, the family was living in Toledo, Ohio and his father was a metal worker at an auto factory. The 1940 census indicates his father had his own paper hanging business and Val was working for him. His enlistment record states he completed one year of high school.
Service Time: Val entered the Army on December 15, 1942 in Toledo. He was soon assigned to the 608th Tank Destroyer Battalion. The unit was formed at Fort Jackson, South Carolina and trained there until moving to Camp Atterbury, Indiana, on June 9, 1943. Training continued but on December 20, 1943, the unit was de-activated and all of the personnel were transferred to different tank destroyer units. On December 28, 233 men arrived at the 607th Tank Destroyer Battalion, stationed at Camp Cooke, California. Technician Fifth Grade Harris was assigned to 3rd Platoon, Company A.
Arriving at his new unit, Val continued training until they moved to Camp Myles Standish, Taunton, Massachusetts, de-training on April 7, 1944 to prepare for overseas shipment. They left the Boston port aboard the USS Wakefield on April 13 and arrived at Liverpool, England on the 21st. They continued training and soon, part of Headquarters Company and Company A disembarked at Utah Beach on June 17, with the remainder of the battalion arriving on June 23. They supported the advance on Cherbourg, fighting along the Seves River in July. Participating in the drive to Le Mans and envelopment of the Falaise Pocket in August, they advanced to the Moselle River in September and supported operations against Metz, France, through November, converting to a self-propelled battalion equipped with M36 tank destroyers in time for the final assault. Following the capture of Metz, the 607th, attached to the 95th Infantry Division, continued the drive toward the Saar River and the capture of a bridge across the river and into Saarlautern, Germany.
On December 9th, the 3rd Platoon was supporting the 379th Infantry Regiment, firing on pillboxes and houses. As the tank destroyer in which Val was a crew member crossed a railroad track, it was struck by an enemy bazooka round and set on fire. The TD commander was lightly wounded, one man was seriously wounded and three crewmen, including Val, were killed.
Private First Class Val M. Harris was initially buried in the U.S. Military Cemetery, Limey, France, Plot D, Row 6, Grave 135. He would have been awarded the EAME medal, with credit for the campaigns of Normandy, Northern France and Rhineland and the WWII Victory medal. He was also posthumously awarded the Purple Heart Medal. In 1948, Val was disinterred and reburied in the Toledo Memorial Park Cemetery, Sylvania, Lucas County, Ohio.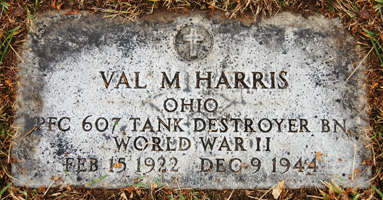 We would like to thank Private First Class Val M. Harris for making the ultimate sacrifice for his country. We also would like to thank Val's niece, Suzanne Peters Jenssen, for providing information and the main photo used in this tribute. Thank you also to Suzanne's husband, David, for use of the grave marker photo.