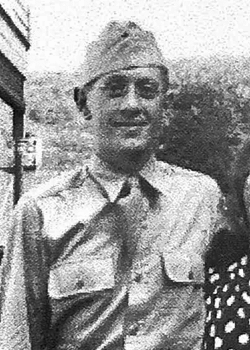 Vernon E. Hafer
Biography: Vernon Earl Hafer was born on January 8, 1912, in Cumberland, Maryland. He was the son of Otto Hafer and Annie Catherine Kohl and attended local schools through the 10th grade.
On December 10, 1940, Vernon married the former Eleanor Gertrude Kornhoff who was also born in Cumberland and was the daughter of Sebastian Kornhoff and Isabelle Christine Aberle. The new couple would make their home in Cumberland. Vernon's enlistment record identifies that he was employed as an asbestos worker prior to the war. A newspaper article mentions that he worked for the Celanese Corporation in Cumberland.
Service Time: Vernon entered active service on April 15, 1943, at Baltimore, MD. He was one of 38 men from his local area to be sent initially to Fort George G. Meade, MD to begin training. He would receive additional training at Camp Hood and Camp Swift, Texas, Fort Knox, Kentucky and finally the port of Embarkation at Fort Lawton in Seattle, Washington.
Army Entry – Cumberland Times April 16, 1943
Vernon completed specialized training and received a Driver and Mechanic Badge as well as qualifying as a Marksman with the M-1 Rifle, M-1903 Rifle, and Carbine. He qualified as an Expert with the 30 Cal. Machine Gun. His military occupation is listed as Motor Transportation NCO (non-commissioned officer).
The 671st shipped out on December 28, 1944, and arrived in Hawaii on January 5, 1945. They were initially stationed at Kaiaka Bay Camp and then Aiea Camp Number One, which is opposite of Pearl Harbor.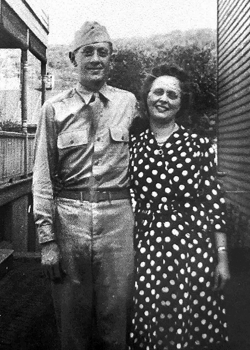 They then shipped to the Philippines in July, preparing for the invasion of Japan, but after the surrender of Japan they remained in place. The unit returned to the U.S., arriving at the Los Angeles port on January 16, 1946. Although the unit did not have credit for any campaigns, they had been thoroughly prepared for action. Vernon shipped back to the U.S. on February 20, 1946, arriving on March 7th. He left the service at the rank of Staff Sergeant at the Fort George G. Meade Seperation Center, on March 23, 1946. He was awarded the Philippine Liberation, the American Theater, WWII Victory, and the Asiatic-Pacific Theater Medals.
Now back in the U.S., Vernon went back to Cumberland and his job working with asbestos. He and Eleanor would have a daughter, Eleanor Sue, born in 1947. In his spare time, he enjoyed woodworking. Vernon passed away on June 11, 1980, and was buried in the Rose Hill Cemetery in Cumberland, MD. I want to thank Vernon's granddaughter, Nicole, for providing the information and photos from this tribute.