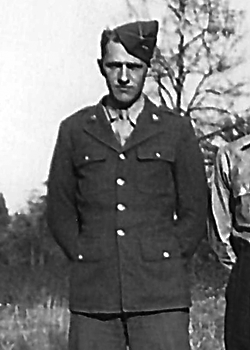 Melvin Hilburn
Biography: Melvin Hilburn was born on December 4, 1920, in Fulton County, Arkansas. He was oldest of five sons born to Chester Hilburn and Daisy Mae Flowers. He attended local schools through the 11th grade and then went to work as a farm hand. His draft card indicates he was working for the University Hospital in Ann Arbor, Michigan, just prior to the war.
On April 13, 1942, Melvin married the former Caroline Virginia Terry, who was born in Pocahontas, AR, and was the daughter of the Claude Terry and Eda Gschwend. The new couple would make their home in Marmaduke, AR.
Service Time: Melvin entered the service on June 18, 1942, at Camp Joseph T. Robinson in Little Rock, AR. After his basic training was assigned to the Reconnaissance Company of the 894th Tank Destroyer Battalion.
The unit shipped out from the New York port on August 6, 1942, and arrived in England on the 17th. Five months later they arrived in North Africa and were committed to battle on February 20, 1943, at Kasserine Pass in Tunisia and then supported the capture of Bizerte.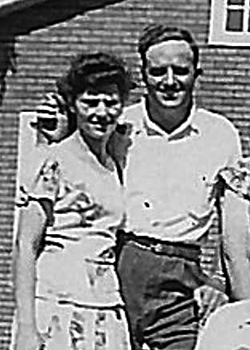 They landed in Italy in late October, 1943, and were located in the vicinity of Pignataro in the Migniano sector as of December. They then transferred to the Anzio Beachhead on January 25, 1944, where the battalion supported mainly British troops. The 894th entered Rome in June and crossed the Arno River at Pisa in September. They were mired at Porretta Terme late that year through early 1945 and entered Genoa in April 27th.
Patrick Chase's history of the 894th identifies that over next few days, Recon Company, as well as the other units, were taking and guarding prisoners. Portions of Recon were specifically located north of Brecia, Italy, trying to capture a number of Germans occupying a large structure located on a farm. Another part of Recon was capturing 300 enemy soldiers near the town of Vezzano, Italy. On April 30th, T/5 Melvin Hilburn was involved in a tragic accident when he "stepped in front of one of the unit's .30 caliber machine guns to get a better look across a valley. The machine gun was so hot from being fired that it cooked-off a round just as Hilburn stepped in front of it. Hilburn was struck in the back of the head and died instantly." A cooked-off round occurs when the extreme heat within a gun causes the ammunition to explode and fire on its own.
Letter from Italian Family – (translation)
Melvin was buried temporarily and is identified as being in the United States Military Cemetery in Mirandola, Italy, as of November 7, 1947. The family received a letter providing them with options regarding where his final burial place would be. They would make the decision for him to remain with the men he served with and he was ultimately reinterred in the Florence American Cemetery in Toscana, Italy, Plot F, Row 3, Grave 23, per a letter received by the family on June 9, 1949. He received the Purple Heart posthumously.
Letter Concerning Final Internment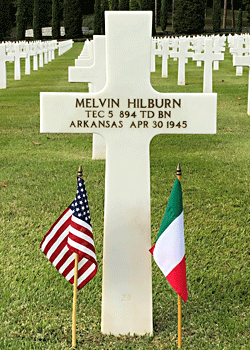 I want to thank Melvin's great niece, Daley, and her aunt, Missy Beaver, for providing the information, photos and other materials for this tribute. I also want to thank Carol Tyler of the American Battle Monuments Commission and the personnel at the Florence American Cemetery, for providing the grave marker photo.
In addition to Melvin's service, his brother Arlin served with the Seabees in the South Pacific and was stattioned on Iwo Jima, as of September 6, 1945.