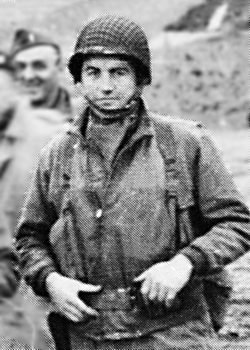 Daniel S.T. Hinman
Biography: Daniel Sylvester Tuttle Hinman, "Dan", was born on December 27, 1911, in Denver, Colorado. He grew up in Wakefield, Rhode Island, the son of LeRoy Race Hinman and Elizabeth Trowbridge Egleston, and attended local schools in Wakefield. He was then sent to the Kent School, which is a college preparatory school in Kent, Connecticut.
From there he continued his education at Princeton University, receiving his Bachelors Degree in 1934. While at Princeton, he took part in a number of sports, including hockey and football. He was an All-American center and played on their 1933 National Championship team, which went 9-0 on the season. He was also commissioned as a 2nd Lieutenant in the ORC (Officers' Reserve Corps). After his graduation from Princeton, he was accepted at Harvard Law and started there the next fall.
On June 27, 1935, Dan married the former Anita Watson Fletcher in Wakefield. Anita was the daughter of Charles Hayes Fletcher and Annie Hamilton Watson. Dan continued to serve as a Reserve Officer and was promoted to 1st Lt. (ORC) in 1939. He and Anita would welcome a daughter, Anne, born in 1941. Prior to the war, Dan practiced law in the Providence and Wakefield areas.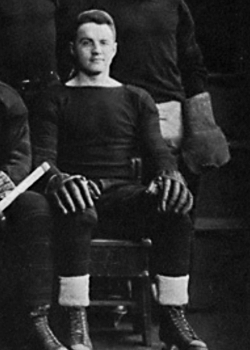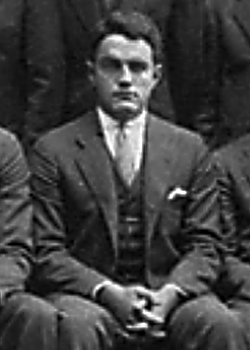 Service Time: Dan was called to active duty on July 17, 1941. Little is know about his early assignments before and at the beginning of WWII but he would ultimately be assigned to the HQ Company of the 601st Tank Destroyer battalion and serve as the unit's S-1, or personnel officer.
The unit shipped out from the New York port and arrived at Gourock, Scotland, on August 9, 1942. Their Reconnaissance Company landed at Oran, Algeria, on November 8th as part of Operation Torch, and the rest of battalion arrived in December. They fought in the Battle of Kasserine Pass in February, 1943, and at El Guettar in March. On September 21st, Dan would distinguish himself in an action not involving the enemy but would, as the citation reads, display"exemplary courage and heroism". For his part, he was awarded the Soldiers Medal. The unit history relates an instance where a bullet pierced Dan's helmet, leaving a hole, but thankfully he was not injured.
The 601st was originally equipped with M3 GMC Tank Destroyers, but converted to the M10 Tank Destroyer at the end of the North Africa campaign. They would go on to participate in the invasion landings at Salerno, Italy, on September 9th, making their third D-day assault at Anzio on January 22, 1944. Dan was involved in another incident on January 25th and would be awarded the Silver Star. His citation identifies that "His gallant actions and dedicated devotion to duty, without regard for his own life, were in keeping with the highest traditions of military service and reflect great credit upon himself and the United States Army."
Dan was briefly called on to command the unit, while Lt. Col. Walter E. Tardy was absent, from March to April of 1944. The 601st entered Rome in June and then conducted their fourth assault landing in Southern France on August 15th. The unit history identifies that Major Hinman was forced to evacuate the unit's Command Post at Rupt, Germany, when the enemy attacked.
Advancing to the German border in the Vosges region, they participated in the reduction of the Colmar Pocket in February, 1945, and then converted to the M36 Tank Destroyer. They battled along the Siegfried Line until crossing the Rhine on March 22nd. The 601st then helped capture Nürnberg in April and ended the war occupying Hitler's retreat at Berchtesgaden in Bavaria. On May 7th, the day before the end of the war in Europe, records indicate that Dan was in Stuttgart, Germany and assigned to the 5th Army.
The 601st received credit for nine campaigns, including Algeria/French Morocco, Tunisia, Sicily, Naples/Foggia, Rome Arno, Southern France, Rhineland, Ardennes-Alsace and Central Europe. In addition to the campaign credits, Dan also received the EAME, WWII Victory, the American Campaign and the American Defense Medals. He would also share in the 601st two Unit Citations.
We have little information regarding Dan after the war but we do know that he remained on active duty until February 21, 1946, serving at the rank of Colonel (AUS). He was promoted to Lt. Col. (Armor ORC) on October 24, 1945, and then served with the General Staff in Washington D.C. When he returned to Rhode Island, he was given command of the 385th Infantry Division and later became adjutant general and director of civil defense for the state. He was then recalled to active duty during both the Cuba and Vietnam conflicts. He was promoted to Colonel (Armor ORC) on January 5, 1959, and was promoted to Colonel on January 6th (Infantry) and Major General (AGC) on April 21st, 1959. In 1961, he commanded the Rhode Island National Guard and received the Army Commendation Medal and the Armed Forces Reserve Medal for his continued service.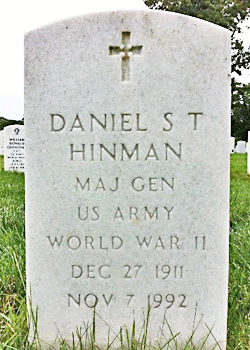 Dan passed away on November 7, 1992, and was buried in the Arlington National Cemetery in Arlington, Virginia. I want to thank Dan's family for their assistance and Find A Grave contributor 142genealogy, for providing the grave marker image. I also want to thank E-Yearbook.com for the photos of Dan, while a student at the Princeton. The photos are used by permission of Digital Data Online, Inc.