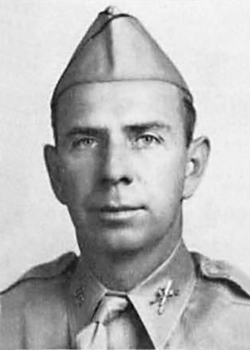 Clebert L. Hail
Biography: Clebert Leon Hail was born on October 18, 1907, in Meece, Kentucky. He was one of seven children born to Charles Moddrell Hail and Margaret Ellen Meece. After completing both his primary and secondary education, he would enter West Point Military Academy, from the Eleventh District of Kentucky, on July 1, 1925. Four years later, he graduated on June 12, 1929, and received his commission as a 2nd Lieutenant in the Infantry the next day.
After graduation, Clebert was one of 101 graduates who had shown interest in the Air Corps and been accepted for flying training. He was assigned to the Primary Flying School at Brooks Field in San Antonio, Texas. In 1933, he attended the Infantry School where he took their Commanding Officer course.
On July 24, 1937, Clebert married the former Martha Lee Kauffman who was the daughter of Andrew Hammond Kauffman and Caroline Rebecca Wiegand. The ceremony would take place in Webster Groves, Missouri and the couple would pass beneath an arch of crossed sabers in the Emanuel Episcopal Church
Service Time: Just prior to the start of WWII, Captain Clebert was serving on the Regimental Staff of the 63rd Infantry Division. He would later be assigned to the Unit Training Center at Camp Hood, Texas, where we believe he was positioned to eventually take command of the 818th Tank Destroyer battalion, which he did on September 9, 1942.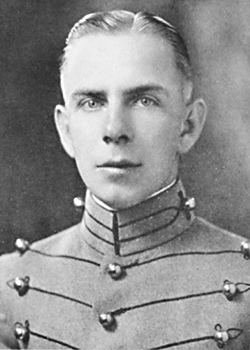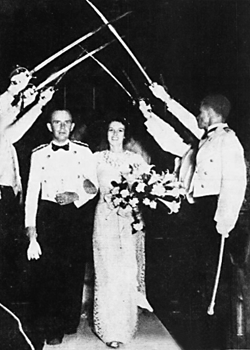 The 818th trained at a number of military installations including Fort Sill, Oklahoma, Camp Hood, Texas, and Mansfield, Louisiana, where they took part in large scale maneuvers. They would eventually move to Fort Dix, New Jersey, and then Camp Shanks, New York, for final preparations prior to shipping overseas. The men boarded ship and departed on October 21, 1943, arriving in Northern Ireland on November 1st and began training for the upcoming invasion. Nine months later, they boarded transports on July 11, 1944 (D+36) and landed in France on the 14th. They were equipped with M10 tank destroyers and advanced across France during August and September to the area of Metz, then supported operations along the Saar River until December.
The September 14, 1944 edition of Stars and Stripes mentions that…"Lt. Col. Hail of Somerset, KY, was cruising around the countryside in an almost new Lincoln Zephyr. His executive officer, Maj. Teddy L. Hayworth of Muskogee, Oklahoma was the proud owner of a Packard convertible. It all happened when 2nd Lt. Steiner D. Garrett, Jr. of Sylacauga, Alabama, and Sgt. Paul J. Seccuro of Fairmont, West Virginia returned from a mission with the Packard for their CO. However, Hail had rounded up six other cars, including the Zephyr, so he suggested they turn the Packard over to Hayworth."
The unit was transferred to the Ardennes sector and participated in the race across Germany beginning in March, 1945. The 818th converted to M36 tank destroyer's prior to mid-April and ended the war in Kienberg, Czechoslovakia.
The 818th received credit for the campaigns of Normandy, Northern France, Rhineland, Ardennes-Alsace and Central Europe. Lt. Col. Hail had been awarded the Bronze Star Medal in October 1944, for heroic achievement, but also received the Purple Heart for wounds he sustained. Additionally, he was also awarded the American Campaign, American Defense, WWII Victory and EAME Medals.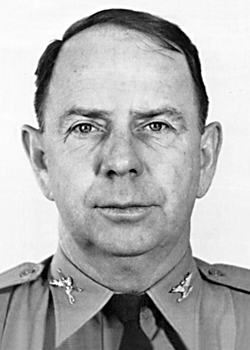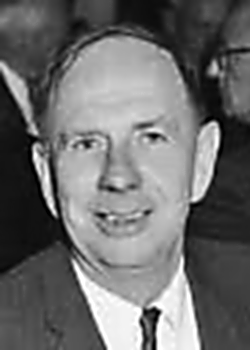 After the war, documents indicate that Clebert served as an Executive Officer in Europe, Rome and Italy. In the late 1940's, he would take a position on the staff of the University of Arizona School of Military Science and Tactics as Assistant Professor of Science and Tactics. While still at the school, he was promoted to full Colonel on December 30, 1950. He had transferred to Armor earlier that year on August 14th. He received credit for service during the Korean War and on June 6, 1959, he was serving as Chief of the U.S. Army Mission to El Salvador.
Clebert and Martha would have four children, Christopher, born in 1938, Carolyn in 1940, Leslie and Linda. On September 1, 1959, Clebert retired from the military after 30 years of service. He passed away on March 13, 1993, at the age of 85. He was buried in the Golden Gate National Cemetery in San Bruno, California. I want to thank Richard Juhl for use of the grave marker photo.