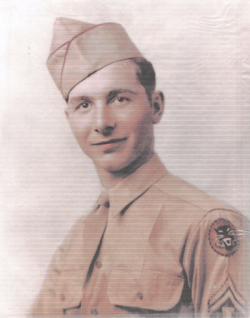 Bernard J. Haas
Biography: Bernard J. Hass, "Bernie", was born on a farm near Custar, Ohio in September, 1922. He attended elementary, junior high, and high school in Milton Township Schools, graduating in 1940. He left the farm the day after New Years of 1941, never to return to the field of agriculture the rest of his life. But, a boy raised on a farm can leave it but the farm can never be taken from the boy.
During the next two years, he worked in a combination dairy store-restaurant called Isaly Dairy Store, Morris 5c-$1 Store for a year. Then he was employed in Erie Ordinance Depot until he received greetings from his draft board.
Service Time: On December 15, 1942, he was inducted into the U.S. Army at the Armory in Toledo, Ohio. After a week in the Army Reserves, he reported to the Reception Center at Camp Perry, Ohio. Before the end 1942, approximately 155 men, drawn from a band extending from South Bend, Indiana, to Cleveland, OH, boarded Pullman cars not knowing their destination.
The following text was provided to me by Bernie….this is his story:
As we traveled, some of us peered out the windows looking at license plates and names of towns. We could tell we were traveling southwest. Eventually, we found ourselves getting off the train in Killeen, Texas. GMC 6 x 6 trucks were waiting to transport us to Camp Hood. Letters on the bumpers read 608 TD BN. We soon learned that TD stood for Tank Destroyer. What in the world was a tank destroyer?
We soon found that we would be equipped with half-tracks, mounted with French 75 mm guns left over from WWI and we would be expected to knock out German tanks with them. After basic training, we were assigned to the gun, recon, medics, or HQ companies of the 608th Tank Destroyer Battalion. The cadre (regimental framework) that provided basic training for us had been in the 8th Infantry Division that was stationed in Fort Jackson, South Carolina, before becoming tank destroyer soldiers. After about a month in Camp Hood, we went to Fort Leonard Wood, Missouri, where we would receive our basic training.