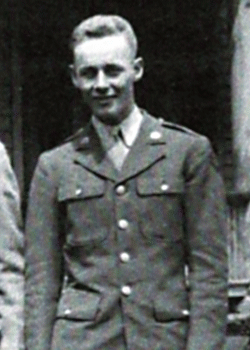 Wilbur L. Hirsch
Biography: Wilbur Leroy Hirsch "Bill" was born on March 13, 1922 in Fennimore, Wisconsin. He was the fifth of seven children born to William Arthur Hirsch and Olga M. Kirchner. Bill graduated from Fennimore High School and then went to work full-time on the family farm.
Service Time: Bill entered the service on October 5, 1942, at Milwaukee, WI, and initially traveled to Camp Grant, Illinois, for induction into the Army. After his basic training, he was assigned to Company B of the 825th Tank Destroyer Battalion.
The 825th was originally trained with self-propelled tank destroyers but in July of 1943, they were reorganized as a towed battalion utilizing the 3″ gun. The unit received training at a number of facilities, including Camps Bowie and Hood, Texas, and Camp Phillips, Kansas. Due to the critical shortage of civilian workers, the unit was sent to Fargo, North Dakota, to assist with the harvesting of the wheat crop. Their work produced enough wheat to supply a loaf of bread to every man, woman, and child in the United States.
The 825th continued their training back at Camp Phillips, but moved to Galatin, Tennessee, to participate in winter maneuvers held in designated areas throughout the state. They proceeded to Camp Campbell, Kentucky, in January 1944, and remained there until March, when they were sent to Camp Breckinridge, Kentucky. On May 25th, they boarded trains and arrived at Camp Kilmer, New Jersey, in preparation for shipment overseas. They left the New York port on May 30, 1944, aboard the Queen Elizabeth and arrived in England on June 5th.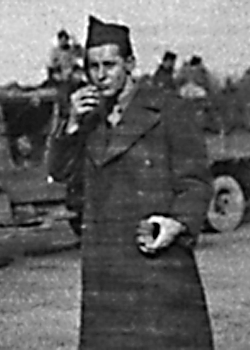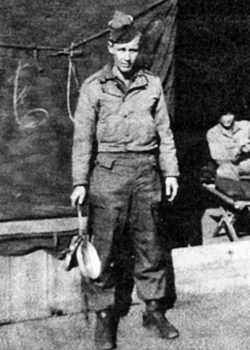 After arriving in France on July 23rd, they were initially assigned to the Communications Zone of the 12th Army Group and took on security duties between August and December 1944. On December 17th, the battalion entered combat near Malmedy, Belgium.
Official records indicate that Bill was part of a squad of thirteen men that were acting as security personnel for a VHF Radio Station, named "Roger" that was located in the area of Nassogne, Belgium. The unit was commanded by Sgt. Robert E. Cloutier and on the 21st, they received word that the enemy was in the vicinity and they were ordered to pull back, about four miles east of the town. By the 23rd, the men were back performing their usual duties but at about 3:30 pm, they heard vehicles, which they identified as a German Jeep-type vehicle, a command car and a motorcycle. Those troops would continue up the road toward a nearby sawmill.
All the men were called back from their outpost and into the radio camp area. Three hours later, they were ordered off the air until it was safe to resume. Additional patrols were observed but the next day, they resumed their radio broadcasting at 9:00 am. On the 25th (Christmas) and the 26th, additional enemy troops were spotted and the men made plans as to how they would leave the area. It was determined that groups of 4 or 5 would have the best chance to escape and the men were divided accordingly. The radio operators were sent out first and then the rest of the men followed. The two groups of men made contact with the 8th Corps, anti-tank officer on the 27th and were soon back to the unit. The next group of men, which included Bill, met up with radio men and arrived at a small railroad station on the 27th. In addition to the sightings of enemy troops along the way, they were also dealing with below freezing temperatures. Bill gives credit to his faithful compass for keeping them going in the right direction. They continued to walk until they arrived at a farm house to inquire there concerning their position. The civilians were friendly and directed them to a nearby hotel where they were given food and a place to sleep for the night. The next day, the 28th, they hitched a ride with some British troops that took them to Gedinne, Belgium and from there, they were able to return to their unit stationed in Luxembourg. In addition to Bill, the men involved in the mission were Sgt. Robert E. Cloutier, Pvt. Frank M. Leaphart, Pfc. Eriksen, Cpl. Clifton O. La Porte, Pvt. Walter L. Flynn, Pfc. Bruce H. Ruoff, T5 Lee Jarrell, Pvt. Joseph T. Curto, Pvt. Eugene Kirkland, Pfc. Herman W. Harper, Pfc. Robert J. Leonard and Pfc. Americano C. Caires.
Bill remained in Europe on occupational duty until he shipped home and was discharged, arriving back home on December 7th. In addition to Bill, each of his brothers also served in the military, Arthur, Leonard, Elmer and Edward. Thankfully, each of them returned home safely, and although Elmer had been seriously wounded, he but did recover.
Hirsch Brothers in Military article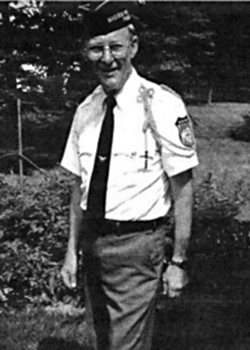 Bill returned to his home in Fennimore but in 1947, he moved to the Madison, WI, area and worked for the Frito-Lay company for 25 years and then as a bus driver for the Madison Metro, where he transported the elderly and handicapped for 7-1/2 years. After his retirement, he continued to volunteer in the area's Retired Senior Volunteer program, providing transportation to medical appointments and delivering meals to those in need. He was also a part-time crossing guard for the local school and was very active in the American Legion and VFW, Post 7591, helping with their Friday fish fry for 11 years busing tables. Bill had married betty Everson on July 7, 1952, at the Little Brown Church in Nashua, Iowa. The couple would have two sons, Michael and Jim and a daughter, Karen.
Another passion of Bill's was the Madison Veterans Council Firing Squad, which honors veterans at graveside services. He found it very gratifying to be thanked by the families of the veterans after they performed their part of the ceremony. Bill was honored in February of 1999 as the "Volunteer of the Month". He and his wife were also able to attend a number of the 825th's reunions since 1983 and looked forward to them each year.
Bill passed away on May 23, 2008, and was buried in the Castle Rock Lutheran Cemetery in Hickory Grove, WI. I want to thank Bill's wife Betty, and son Mike, for providing the information and photos of Bill for this tribute. I also want to thank Find A Grave contributor, HM Adams, for the use of the grave marker image and to Serge Lemaire for contacting the Hirsch family and all his research to honor these men.