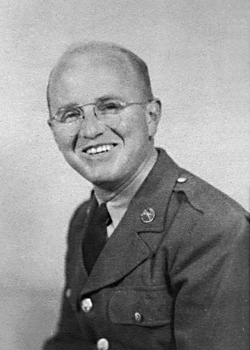 Earl H. Handley
I want to thank fellow researcher, Joel Hamby, for providing the photos and text used in this tribute.
Biography: Earl Houston Handley was born on April 18, 1913, in Greenbriar County, West Virginia. He was the son of Alex R. Handley and Stella L. Handley and had an older brother and three younger sisters. Not much is known about his schooling but his enlistment records show that he had graduated high school and had three years of college to his credit.
His draft card reflects that he was employed by the Beckley Newspaper Corporation in Beckley, West Virginia. His enlistment records reflect that he was semi-skilled machine shop and related occupations, which probably means (due to his basic training photos that noted others around him who were linotype or printing operators) he was a linotype operator.
Also in his records was a form letter from the Department of Treasury indicating his rights as an employee who voluntarily enlisted in getting his old job back. This probably means he was in the printing business with the Beckley Newspaper Corp. and the Government Printing Office, which was under the Department of the Treasury at the time. His enlistment record also states that he was 65 inches tall, and 153 pounds.
Service Time: Earl entered the service as a fairly rare bird on May 26, 1942 at Fort Hayes Columbus Ohio. His Army Service Number reflects that he was a volunteer or voluntarily enlisted. Shortly thereafter he entered the service in late July, receiving notice that he had been denied for glider training due to not having previous flight experience. He did his initial training at Camp Wolters, Texas, in mid to late summer, and was assigned to 2nd Platoon, D Company, 58th Training Battalion. His training records and photos of his company all survived. Several members in 1st and 2nd Platoons ended up in the 811th as well.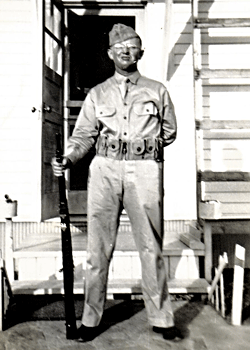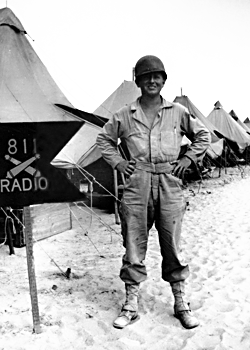 After his initial training, he was at the assigned to the Student Regiment at the Tank Destroyer School at Camp Hood, Texas, where he mailed a picture postcard to a friend. From there he was sent to B Company, Headquarters Platoon of the 811th Tank Destroyer Battalion and on February 18, 1943, Handley was ordered to the Tank Destroyer School Enlisted Radio Electricians Technicians class. He was promoted to Technician 5th Grade (temporary) on July 23rd, which probably means he did well in the class. By that time, he was well into the unit training phase with the battalion as his postcards home indicate.
The unit trained at a number of facilities within the U.S., including Camp Hood, Texas, Camp Carson, Colorado, the Desert Training Center in Needles, California, Camp Gruber, Oklahoma, and then to the Louisiana Maneuvers and Camp Claiborne and Camp Livingston in Louisiana.
The unit traveled to Camp Miles Standish for final preparations before shipping out from
the Boston port on September 5, 1944. The 811th History denotes that T/5 Handley
was part of the original members of the battalion who landed in France. They arrived at Cherbourg, France, on September 15th, equipped with M18 tank destroyers and moved to Luxembourg in November, participating in the Battle of the Bulge in December. The battalion was scattered widely with portions attached to many divisions into January, 1945.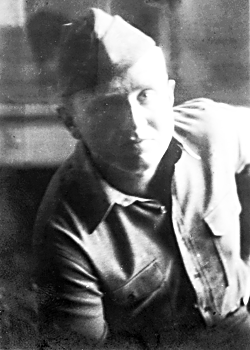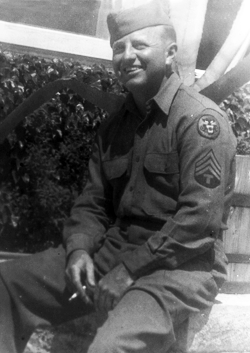 The unit then supported operations against the Siegfried Line in February and in early March they advanced to the Rhine and finally crossing the river on the 30th. They supported the 80th Infantry Division in the capture of Kassel, Germany, and advanced to Erfurt and Chemnitz, Germany, in April. Moving south, they crossed the Danube River to Regensburg, entering Austria on May 5th. Earl kept unit records and seemed to be an accomplished typist since among his papers were a Company B Journal from February 1945, to the end of war, and a roster of the soldiers of Company B, who fell during the war. His return manifest of belongings and captured enemy equipment was signed in June 1945, by 1st Lieutenant C.W. Graves indicating he brought home two German pistols and a Nazi Flag. Two of his passes to Rouen, France, from August 1945, also survived, signed by his company officers.
The entire battalion shipped home from France August 15th on the SS. John S. Pillsbury. Earl saved the Salty Tidbits newsletter that was published on board, the souvenir edition of Japan's surrender from Camp Twenty Grand (all of the departure camps were named after cigarette brands), and his POE return certificate was signed by Lieutenant Colonel A.R. Brownfield, the 811th Commander. Earl had all his buddies autograph it with their addresses. Earl received credit for each of the unit's campaigns including Rhineland, the Ardennes and Central Europe. He left the service at the rank of Technician 4th Grade in November 1945, and returned home in September.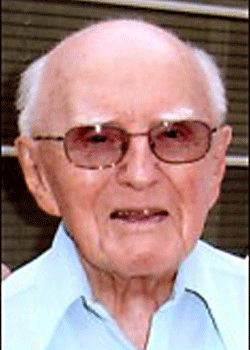 On June 19, 1947, he married Anita Marie (Mary) Caterino in Glen Burnie, Maryland, where they would reside for the rest of their lives. The couple had two sons, Earl A., born in 1953, and Stephen S, born in 1955. Earl was a proofreader for the Government Printing Office for many years until he retired. Mary unfortunately passed away in 1980, but Earl lived to the fine old age of 97, passing away due to natural causes on October 1, 2010.