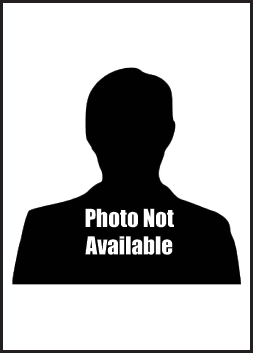 Bub A. Harris
Biography: Bub A. Harris was born on September 27, 1918, in Tahlequah, Oklahoma. He was the oldest of ten children, five girls and five boys and attended local school through the 11th grade. At some point moved to Silver City, New Mexico. His enlistment record indicates he was working as a sales clerk prior to the war but his discharge states he worked as a tractor driver.
Service Time: Bub entered the service on March 6, 1941, at Sante Fe, New Mexico. After his basic training, he was ultimately assigned to the Headquarters Company of the 804th Tank Destroyer Battalion, serving as a light truck driver. The 804th had been organized in January, 1942, at Camp San Luis Obispo, California.
Training was conducted at March Field, where they served as airdrome security, the Desert Training Center and La Mesa, all in California. Next was a move to the Tank Destroyer Center at Camp Hood, Texas. At the end of July, that same year, they moved to Indiantown Gap, Pennsylvania, to stage for overseas movement, which began on August 6th with the unit arriving in Belfast, Ireland on the 17th.
More training ensued followed by a move to England in late November and on January 15th, 1943, they sailed from England, landing in Oran, Algeria on February 1st. Bub suffered some type of injury or wound and he was sent back to the U.S., on July 28th and arrived on August 12th. It would be almost two months later on October 5th that Bud would ship back to Europe, arriving later that same month. Bub did receive the Purple Heart in recognition of his wounds.
While in North Africa, the 804th trained French troops on M10 tank destroyers but only battalion observers went to front. Bub had rejoined the unit, which arrived at Naples, Italy, on February 8, 1944. They moved to the Gustav Line along the Garigliano River by March 9th.
They entered Rome on June 4th and carried the infantry into Livorno on July 18th. They then crossed the Arno River in September and supported attacks on the Gothic Line through October. We do not know the reason but Bub again shipped back to the U.S., on November 6, 1944, arriving on the 28th. He was discharged on August 7, 1945, from the Harmon General Hospital in Longview, Texas, where he was given a Certificate of Disability for Discharge under Section I, AR 615-361.
He received credit for the Rome Arno campaign and was awarded the EAME Campaign Medal and the American Defense Medal. He left the Army at the rank of Private First Class although his highest rank held was Corporal.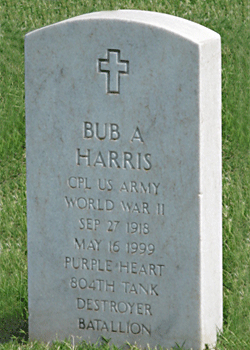 Sadly Bub's health would require continued treatment and he was sent to the VA (Veterans Administration) Hospital in Arkansas and would remain there until his passing on May 16, 1999. He was buried in the Fort Gibson National Cemetery in Fort Gibson, Oklahoma.
I want to thank Bub's niece Raenelle for providing information used in this tribute. Thank you also to Find A Grave contributor, Lonnie Hoover, for the use of the grave marker image.
Bub's four brothers would also serve in the military with his younger brothers serving in Korea and Vietnam.