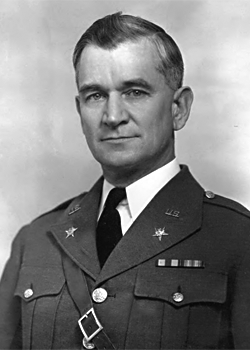 John H. Hester
Biography: John Hutchison Hester was born on September 11, 1886 in Albany, Georgia. He was the son of John Temple Hester and Lillie Dale Hutchison. He attended the University of Georgia, before entering the United States Military Academy at West Point, New York. He graduated in June, 1908, and was commissioned a second lieutenant of infantry.
His first assignment was to Fort McPherson, Georgia, where he served until 1913. He married the former Leila Richardson on March 30, 1910, in Atlanta. She was the daughter of Frank Henry Richardson and Leila Rosa Conner. They had two children, Henry R, born in 1911 and John H. in 1917. He attended the University of Georgia where he was a member of the Alpha Tau Omega fraternity.
Service Time: John was commissioned as a 2nd Lieutenant in 1908 following his graduation from the West Point Military Academy. He served in the Philippines from 1914-1915 and served with General Pershing's Mexican Expedition in Mexico in 1916. During World War I he was initially with the Sixth Division and later on the War Department General Staff. In 1921 he graduated from the Infantry School and in 1922, he was an honor graduate from the School of the Line followed by graduating from the General Staff School in 1923. From 1933-35 he served in Puerto Rico as the Executive Officer of the 65th Infantry Regiment.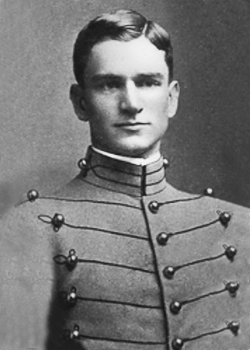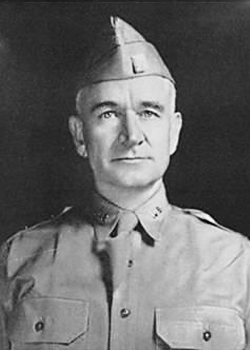 The photo on left is Hester while a student at West Point. The photo on right is while he was commanding the 43rd Infantry Division.
In 1939, he was the commanding officer of the 1st Infantry Regiment, was commissioned as a permanent Brigadier General on November 1, 1940 and was executive for Reserve Affairs in the War Department from 1940-41. In April of 1941, he was assigned to command the Camp Wheeler, Georgia, Infantry Replacement Training Center. In October of that year, he was assigned to command the 43rd Infantry Division at Camp Blanding, Florida, and eventually led the division through a month of maneuvers in the Carolinas. He was commissioned as a Major General on February 14, 1942.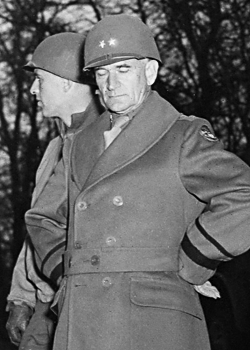 The 43rd ID moved overseas in October, 1942, and participated in the landings at Russell and Rendova Islands and attacked the Munda Airport, held by Japanese forces, at the end of July, 1943. He was relieved of command by Major General John R. Hodge on July 29, 1943. Official reason of his dismissal was "exhaustion of combat". Hester was subsequently sent back to the United States and granted two months leave for recovery. He was decorated with the Legion of Merit for the success of the initial stages of the New Georgia Campaign.
He was appointed commanding general of the TDC (Tank Destroyer Center) at Camp Hood, Texas, on October 23, 1943. His final assignment was post of commanding general of the Infantry Replacement Training Center at Camp Croft, South Carolina, where he arrived on 26 June 1944. He retired from the Army on February 28, 1946, and was awarded a Bronze Oak Leaf Cluster in lieu of a second Legion of Merit for his service during his last assignment.
The photo above is just a portion of a larger image, which was taken at Camp Hood and included a number of TDC personnel, including Colonel Ray C. Montegomery.
He taught at the University of Georgia and the University of Minnesota where he was a professor of military science and tactics. We do not have any dates regarding these teaching periods.
John passed away in Atlanta, February 11, 1976, and was buried in the Arlington Memorial Park, Sandy Springs, Georgia. Thank you to E-Yearbook.com for the photo of Hester while a student at West Point. The photo is used by permission of Digital Data Online, Inc.