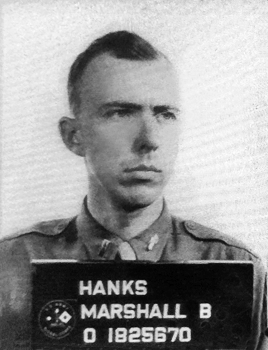 Marshall B. Hanks
Biography: Marshall Bevis Hanks was born on February 25, 1915, in Indianapolis, Indiana. He was the son of Marshall Wilfred Hanks and Mildred Bell Bevis and while still a child, the family moved to Wisconsin. Marshall graduated from West High School in Madison, WI, and then continued his education at the University of Iowa, completing 3 years.
He then moved to the Los Angeles area in California and worked as a manager for the Douglas Aircraft Company in Long Beach, CA. Douglas, along with the Boeing and Vega companies, is probably best known for building the B-17, "Flying Fortress", during WWII.
Service Time: Marshall entered the service on May 21, 1942, at Los Angeles, CA. He was sent for basic training and eventually assigned to the 815th Tank Destroyer Battalion.
On August 7, 1942, while on leave from the unit, Marshall married the former Jane LaFrance Anderson, who he had met while working at Douglas Aircraft. Jane was born in Rocky, Oklahoma and was the daughter of Clarence Anderson and Burlie Sewell. In addition to marrying Jane, he also adopted her young son, Michael.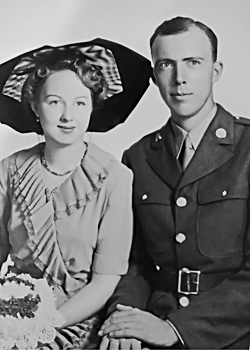 We believe it was while training with the 815th that he was selected for OCS (Officer Candidate School) and was a member of Class No. 35, at Camp Hood, Texas. He graduated on June 25, 1943, as a 2nd Lieutenant of Field Artillery and while still stationed at Camp Hood, Marshall and Jane would welcome a son, Marshall Jr., born in 1943. The senior Marshall shipped overseas, probably around July or August of 1944, as a officer replacement and was assigned to the 805th Tank Destroyer Battalion, serving as Platoon Leader for one of their Reconnasciance units. The 805th had been overseas since January of 1943, serving in North Africa and then Italy. With Marshall gone, Jane and the two boys moved to Madison to stay with Marshall's family, who were still living there.
The 805th utilized towed 3-inch guns in both North Africa and during their early actions in Italy before being re-equipped with M18 tank destroyers (the only M18 units in the Mediterranean Theater of Operations) in June through August 1944. It is interesting that the 805th served largely as artillery even after receiving the self-propelled units. The unit's TDs were part of the advance guard at the capture of Bologna and Brenner Pass.
The 805th received credit for five campaigns and with Marshall's later arrival, he could have received credit for campaigns of Rome Arno, North Apennines and Po Valley.After the war had ended and while on occupational duty, on June 16, 1945, he was promoted to 1st Lieutenant.
Now back in the U.S., Marshall joined Jane and his growing family in Wisconsin, which now included a daughter Judith, born in early 1945. Marshall found work with the Gisholt Machine Company, working as a Sales Representative and later as a Sales Manager. He was also on the Board of the Dane County Title Company and an active supporter of the Madison Scouts Drum & Bugle Corps, which his sons participated in. Sadly, in 1963, his beloved wife Jane passed away. Marshall decided to return to California where he had lived prior to the war. It was while there that on September 20, 1965, in San Diego, CA, he married the former Mary Josephine Runkle Burrell who was born in Portage, WI, and was the daughter of Frederick Henry Runkle and Josephine Elizabeth Powell.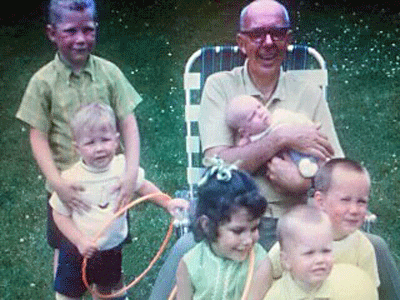 In his spare time, Marshall was an avid Packers fan and enjoyed carving soap stone. He was also a 32nd Degree Mason of the Scottish Rite. He also gave of his time to support the Marin County Sherriff's Department but in my humble opinion, other than his family, Marshall's greatest acheivement was his vision and leadership in the establishment of the Tank Destroyer Association (TDA) for the over 100,000 men that served in the various TD units. Starting in the early 80s, Marshall began the difficult task to make contact with, and organizing, the TDA starting with the many individual groups that were already meeting around the country. In 1981, the TDA was established with founding members, Quintus Atkinson (610th), Jerome Cohen (807th), Marshall (815th, 805th), Warren Mitchell (661st), Marvin Ravely (776th, 807th) and Alex Woodside (807th). At it's peak, in the late 1980's, the unified roster included close to 14,000 men. Some of the TDA's most notible acheivements included the erection of a 9′ granite monument at Fort Hood (formerly Camp Hood), home of the Tank Destroyers, publication of a newsletter, additional monuments and plaques at other military facilities and finally in 1992, the publishing of the definitive history book, Tank Destroyer Forces – WWII, which includes a dedication to his work to establish the TDA.
The photo above, taken about 1969, and shows Marshall enjoying time with his grandchildren.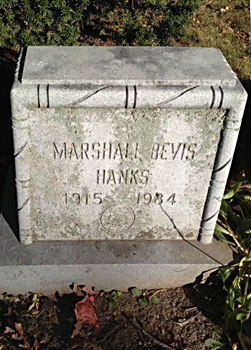 Marshall passed away on January 25, 1984, and was buried in the Forest Hill Cemetery in Madison, WI. Although he never got to see the completion of many of the established goals for the TDA, his efforts and accomplishments regarding to the Tank Destroyer Forces will certainly continue far into the future.
I want to thank the Hanks family for providing information and photos used in this tribute. Thank you also to Find A Grave contributor Neil D. McCallum for the use of the grave marker photo. If you look closely, you can see the emblem of the Tank Destroyers proudly engraved on his stone.