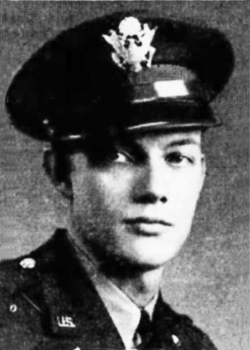 John E. Hugus, Jr.
Biography: John Earle Hugus Jr. was born on October 24, 1920, in Charleroi, Pennsylvania. He was one of two sons born to John E. Hugus and Hazel Adaline Shannon. In 1936, the family moved from the Wilkes-Barre area to Selinsgrove where he started his junior year at the high school. He was a member of the Varsity basketball, football and track teams and numerous student clubs.
After graduation in 1939, he enrolled at Susquehanna University. He also attended Civilian Military Training Corps (CMTC) school at Camp Meade in 1938 and at Fort Hoyle in the summers of 1939 and 40 and completed his studies by correspondence course while enrolled at Susquehanna U. He was a member of Beta Kappa at college.
Service Time: He passed his CMTC examination in Harrisburg in February, 1942 and withdrew from college after his commission as a 2nd Lieutenant on March 20th. He reported for duty on the 28th at the Field Artillery Replacement Center at Fort Bragg, North Carolina. Three months later he was transferred to Company B of the 634th Tank Destroyer Battalion at Camp Hood, Texas. In November, they returned to Camp Claiborne, Louisiana, for a second time after participating in the Louisiana Maneuvers. John was promoted to 1st Lieutenant while in LA. More training ensued and they were equipped with M10 Tank Destroyers.
The unit shipped out from the New York Port on December 29th, 1943, and arrived in England on January 10, 1944. The 634th landed on Utah Beach in Normandy, France, on June 30. They were committed to battle on July 10th near Carentan and participated in the Cobra breakout in late July. Their widely separated elements helped capture Mayenne and defeat the Mortain counteroffensive in early August. The 634th then raced east to Mons, Belgium, and supported operations against the Siegfried Line and the capture of Aachen, Germany, in October. The unit then fought in the Hürtgen Forest in November and moved to Belgium in December for a much-needed rest and equipment maintenance period.
On December 16th, their rest was interrupted by the massive German counterattack that came to be known as the Battle of the Bulge. By mid-January, Company B platoons were assisting infantry battalions in the Butgenbach, Belgium area. On the 19th, units were attacking Schoppen, BE, which is about 2.75 miles south and slightly west of Butgenbach. At about 230PM, an enemy artillery barrage landed about ¾ of a mile west of Schoppen and 1st Lt. John E. Hugus, who was serving as a platoon leader, was killed in this attack.
He was awarded the EAME, with credit for the campaigns of Normandy, Northern France, Rhineland and Ardennes-Alsace and the WWII Victory medals along with a posthumously awarded Purple Heart medal. Lieutenant Hugus was originally buried in a temporary cemetery but he was eventually moved to the Henri-Chapelle American Cemetery and Memorial, Henri-Chapelle, Arrondissement de Verviers, Liege, Belgium. We would like to thank him for making the ultimate sacrifice for his country. Thank you to Find A Grave contributor "cjhandiboe" for use of the grave marker photo.