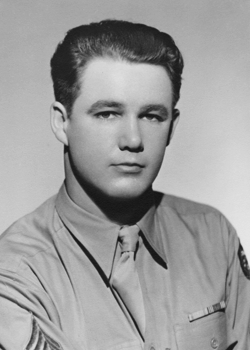 Edward C. Hoy
Biography: Edward Carrol Hoy, "Ed", was born on December 25, 1920, in Price, Wisconsin. He was the son of William R. Hoy and Blanche M. Putnam. In 1931, his father was critically injured in an accident while working on the railroad. The children and his mother pitched in doing whatever work they could find to support the family. In 1933, his mother passed away. In September, 1937, Ed enrolled in the Civilian Conservation Corps (CCC) at a Forestry Camp in northern WI. His next 6-month enlistment was at a Soil Conservation Camp. Following that, he asked to be transferred to Camp Wingra, which was a Wildlife Management Camp located on the University of Wisconsin campus at Madison.
Service Time: On September 27, 1939, Ed enlisted in the U.S. Army. He was soon assigned to the 80th Field Artillery of the 6th Infantry Division. Basic training was completed in January, 1940, and he was promoted to Private First Class (PFC) followed by promotion to Technician Grade Four in early March. In early June he was promoted to Sergeant. In late July he volunteered for and was accepted for the original cadre of the newly formed 2nd Armored Division at Fort Benning, Georgia. In late September, he again volunteered, and was accepted info the newly formed 3rd Armored Division. He continued training with the 3rd AD and near the end of 1941, he was transferred to the newly formed 703rd Tank Destroyer Battalion. He was assigned as First Sergeant of the Reconnaissance Company.
They received training at several military facilities including Camp Hood, Texas, the Desert Training Center, Indio, California and Fort Pickett, Virginia. The 703rd then traveled to Indiantown Gap Military Reservation in Pennsylvania for additional training and final preparations before shipping overseas. They boarded ships and left the New York port on September 4, 1943, arriving in England on the 15th. They spent 10 months training there before being loaded on transports and making their way across the English Channel, landing in Normandy, France, on July 1, 1944. A few weeks before the unit entered combat, Ed was promoted to Battalion Sergeant Major, the Army's top enlisted administrative position.
The unit first saw action near Hautes Vents on July 13th, participating in the Cobra breakout at end of month. The 703rd was held in reserve during the battle for Mortain in August. They crossed the Seine River on August 26, and reached the Siegfried Line in the vicinity of Eschweiler, Germany, by September 12. They were the first battalion that converted to M36 tank destroyer's beginning on September 30th.
They fought along the West Wall until mid-December, but were then transferred to the Ardennes after the launch of the German offensive. Fighting to reduce the Bulge in January, 1945, they joined the drive to Cologne in February and early March. Crossing the Rhine River on March 23rd near Honnef, they participated in the envelopment of the Ruhr River and slashed east to stop at Dessau by April 14th. The unit began occupational duties and awaited orders for shipment to Japan but after the Japanese surrendered, the unit shipped home. The 703rd received credit for participation in the campaigns of Normandy, Northern France, Rhineland, Ardennes-Alsace and Central Europe.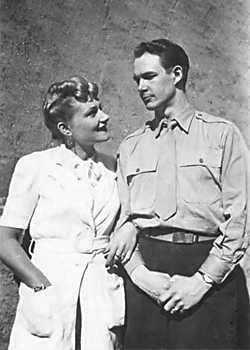 In late summer of 1945, Ed had decided he wanted to stay in Germany as a civilian. He had met a German woman, Maria E. Hesch, "Maja", in Darmstadt and hoped to marry her. She was born in Worms-am-Rhein, Federal Republic of Germany and was the daughter of Anton Hesch and Emilie Hoffmann. He was transferred to the Third Replacement Depot and was finally discharged at the rank of First Sergeant on November 5, 1945. He secured a two-year civilian contract with the Office of the Theater Chief Quartermaster in Frankfurt, where he started as a clerk and soon rose to Section Chief. Getting permission to marry Maria took many months.
We do know that Ed and Maria were eventually married but we have very little information about his post-military life. City directory records indicate he was living in La Mesa, California in 1969, Roseburg, Oregon in 1982 and was retired in Cottonwood, Arizona, from 1990 to 1999.
In January 1998, Ed began the process of gathering his memories and setting them down on paper as a memoir of his time in the military titled "From KP to Combat, Recollections of a WWII Topkick". The Topkick reference identifies him as the highest ranking enlisted man in the unit's Reconnaissance Company. The memoir includes 18 chapters and 149 pages with much more detail than we can provide here. You can read the entire document at the following link:
From KP to Combat, Recollections of a WWII Topkick
Ed passed away on February 4, 1999, and was buried in the San Joaquin Valley National Cemetery in Santa Nella, California. Thank you to Find A Grave contributor Karen Burns for use of the grave marker photo. The main photo and photo with Maria are from his memoir.