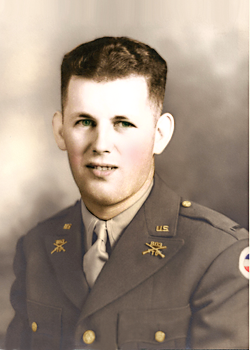 Romain L. Hollis
Biography: Romain Lorenzo Hollis was born on March 27, 1913, in Tacoma, Washington. He was one of three sons, and two daughters born to Fred D. Hollis and Amelia C. Munoz. He graduated from local schools in 1931.
On July 2, 1931, he enlisted in the Washington State National Guard for a period of 3 years, serving in the Headquarters Troop of the 24th Cavalry Division, which was stationed at Camp Murray in Tacoma. As a cavalry soldier, Romain would excel as a soldier and received much recognition for his horsemanship. He was promoted to Private 1st Class on May 9, 1932 and to Corporal on January 18, 1934, when he re-enlisted for a term of three years. His three subsequent one-year enlistments would see him promoted to Sergeant on January 18, 1937. A newspaper article identifies that Romain spent at least a portion of his service time working in the adjutant's office at Camp Murray.
On June 26, 1937, he married the former Keigh Yvonne Musser who the daughter of Clayton E. Musser and Nellie M. Pierson. The new couple would have a daughter, Judith, born in 1941. His enlistment documents indicate that when he wasn't serving in the National Guard, he worked as a butcher in his uncle's meat market.
He enlisted again on July 3, 1940, and was promoted to First Sergeant. It was later that same year that personnel from Troop B, 24th Cavalry and other units were used to form the 103rd Antitank Battalion, which was activated on September 30, 1940. Romain had been discharged on September 29th to accept a commission as a 2nd Lieutenant per SO 156 AGO on the 30th when the unit was activated. He was assigned to Company B.
Service Time: With the war approaching, the 103rd was Federalized on February 10, 1941, and redesignated as the 803rd Tank Destroyer Battalion on December 12th, making Romain one of the original members of the unit.
The 803rd trained in the U.S., at a number of military facilities including Fort Lewis in Washington, Camp Hood, Texas, Pine Camp, New York and Camp Kilmer, New Jersey. At some point, he was assigned to the 630th Tank Destroyer Battalion and continued his training with the unit. On February 1, 1942, Romain was promoted to 1st Lieutenant.
The 630th shipped out on June 3, 1944, from the New York port, aboard the ship New Amsterdam. They arrived in England on June 12th and after a month of additional training and final preparations, they boarded LST transports and landed at Omaha Beach, Normandy, France, on July 24th.
The 630th was equipped with 3″ towed anti-tank guns and entered the line near Colombieres. They advanced across France with the 28th Infantry Division to Luxembourg and supported operations against the Siegfried Line in September & October.
The September Unit Report provides the following information:
"Company B placed guns in position for night in area of the 110th Infantry vicinity of Wilwerdingen. At 120730 on enemy personnel half-track was knocked out by 1st Platoon at 804751. Four enemy were killed and three were wounded and captured."
"Company B moved its platoons late afternoon of 12 Sept 44 with Infantry Battalions of the 110th RCT (Regimental Combat Team) over Our River into position for night inside Germany. Platoons were in new areas 2230. Heavy enemy artillery fire was received in regimental area during (next) day. Around 1100 one platoon vicinity Berg fired on three halftracks at 918741 which were bringing enemy infantry up to man pillboxes. Enemy was scattered. Fire was also laid in woods at 913734 and one vehicle was set on fire. At 1200 one officer and ten men were wounded and four men were killed by enemy artillery fire in the area. All were from first platoon."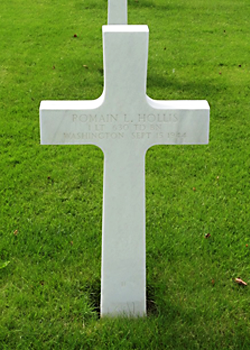 We believe 1st Lt. Romain L. Hollis was the officer that was wounded that day. He was taken to a field hospital and died three days later, on September 15, 1944. He would have been buried in a temporary grave but was later reinterred in the Henri-Chapelle American Military Cemetery in Hombourg, Belgium, Plot G, Row 15, Grave 11. Romain was awarded the Bronze Star, EAME Medal, WWII Victory Medal and posthumously received the Purple Heart in recognition of the wounds he sustained.
Newspaper Article about Romain's Death
(NOTE: The above article indicates that Romain served in the 193rd Anti-Tank battalion but it was actually the 103rd.)
I want to thank Romain's daughter Judi, for the photo of her father. Thank you also to Find A Grave contributor, Des Philippet, for the use of the grave marker photo.
The link below is to a tribute page for Romain on the American WWII Orphans Network: