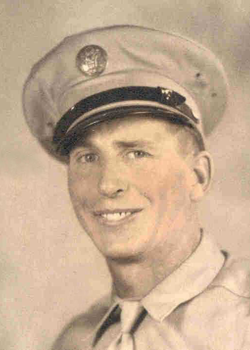 Lester W. Henshaw
Biography: Lester Willis Henshaw was born on March 3, 1908, in Starkey, New York, which is in Yates County. He was the son of Marion L. Henshaw and F. Florence Klock and attended elementary schools in Chili and Brockport, NY. After leaving school, Lester worked as a farm laborer, a truck driver, and as a laborer for the W.P.A. (Works Progress Administration).
In 1927, Lester married the former Eva B. Hoy. She was born in Monroe County, NY and was the daughter of James M. Hoy and Leila B. Batty. The couple made their residence in Hamlin, NY and together had six sons, Lester Jr. born in 1928, Gerald in 1930, Ross in 1933, Donald in 1936, Mark in 1949 and Richard in 1952.
Service Time: Lester entered the service on March 11, 1944, at Fort Dix, New Jersey. At the time, he was already the father of four sons and 36 years old when he was drafted for what was identified as "6 months military training". He traveled to Fort Hood for his training and remained stationed there until the end of the war. He was discharged on August 27, 1945, when the surrender of Japan was imminent.
Lester was very proud of his time in the military as part of the tank destroyers and passed that onto his sons, five of whom would also serve in the military, two serving in the Army, one on the Navy and two in the Air Force.
Lester returned home from the service to work as a machine operator for the Eastman Kodak Company in Rochester, NY. He retired from the KP Paper Finishing Department in the 1970s. Besides work and his family, he enjoyed the outdoors, in particular camping and gardening. In 1955, when the movie "To Hell and Back", about the life of Audie Murphy, came out, Lester was excited to take his children to see it. He recalled his training on the .50 cal. machine gun just as Murphy used when he climbed aboard the M10 during his heroic actions in France. Lester passed away on March 5, 1995, and was buried in Zephyr Hills, FL.
I want to thank Lester for his service to this country and the continuing legacy of service by his sons. Thank you specifically to Lester's son, Mark, for providing this information and photo.