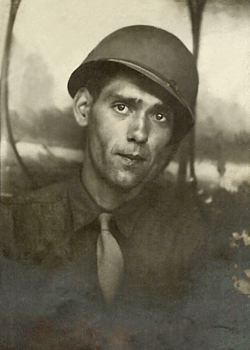 James S. Hobson
Biography: James Samuel Hobson was born on September 4, 1919, in Uniontown, Pennsylvania. He attended grammar school before going to work as a laborer as identified by his military paperwork.

Service Time: His first term with the military started in 1936 and ended on October 26, 1938, at Fort McDowell, California. James left the service at the rank of Private, having served in the Coast Artillery of the U.S. Army with some of that time being spent in Hawaii.
Honorable Discharge – October 26, 1938

Prior to April 22, 1944, which was when he entered the service for the second time, James married the former Ruby Jean David, who was also of Uniontown.

From his enlistment paperwork, James is identified as married and entering service at Fort George G. Meade, Maryland. At that time, his civilian occupation is listed as "Skilled occupations in the manufacture of miscellaneous products". We also have a furlough slip providing for 17 days away from Company C of the 638th Tank Destroyer Battalion. The furlough is dated for Oct 4 through 21 of 1945 and mentions that he was a Pfc. At the time, the 638th was stationed at Fort Benning, Georgia. A month later, on Nov. 7th, the unit was inactivated and James was probably discharged at that time.
Furlough Slip – October 1945
Another official document, sent to James in 1952, identifies the awards he qualified for during WWII. They include the Good Conduct Medal, the American Campaign Medal, the EAME Medal with 2 Bronze Campaign Stars, for Rhineland and Central Europe, and the Army of Occupation Meal with Germany Clasp. It is probable that James did not join the 638th immediately since he only received credit for the unit's last two campaigns.

His third service is identified by a letter of separation, which states that he also served from Sep. 17, 1947 to Apr. 21, 1949. During this period, his specialty was Light Weapons Assault Crewman with proficiency in all forms of basic weapons, including rifle, automatic rifle, bayonet, rocket launcher, pistol and grenades to name a few. His home is listed as Cleveland, Ohio, and he left the service at Camp Kilmer, New Jersey. Throughout most of this service, he is listed as a grade "five" but when he left, he is listed as a grade "seven".
Separation Record – April 21, 1949
Awards Qualification Notice – June 30, 1952

James and Ruby did have one child, James Richard. Other than the fact that he was a member of the VFW, very little is known about his later life. James passed away in 1990 and was buried in Brunswick, OH.
I want to thank James' son and great-grandson, Pau,l for providing this information and photo.