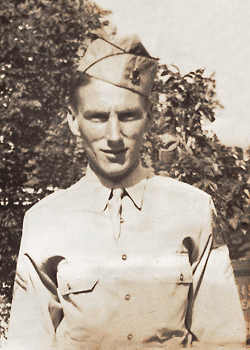 Victor F. Hitz
Biography: Victor Frederick Hitz was born on March 22, 1920, in North Madison, Indiana. He was the son of Frazier Harper Hitz and Emma Johanna Ernestine Rieman and graduated from North Madison High School in 1938. Victor worked as a checker but went on to attend Indiana University and Hanover College.
Service Time: Victor entered the service on December 4, 1941, at Camp Grant, Illinois, and was sent to Fort Knox, Kentucky, for training. He was assigned to the Headquarters Battery of the 78th Armored Field Artillery Battalion, which served in both Africa and Sicily. Victor received credit for the Algeria/Morocco and amphibious landing on Sicily. The 78th was later attached to the 2nd Armored Division for action throughout Europe. Victor remained in the 78th but moved to A Battery, until May of 1945, when he was transferred to the Reconnaissance Company of the 702nd Tank Destroyer Battalion. At the time, the 702nd was also attached to the 2nd Armored Division.
Victor earned a Bronze Star per General Order #42 from Headquarters of the 2nd Armored Division, dated June 11, 1945. He received credit for five additional campaigns, including Normandy, Northern France, Rhineland, Ardennes-Alsace and Central Europe for a total of seven. He received the Good Conduct Medal, American Campaign Medal, World War II Victory Medal, EAME Medal, Army of Occupation Medal, and was authorized to wear the Belgian Fourragere and Distinguished Unit Ribbon.
Discharge and Awards Authorization

Victor received additional notoriety when he was featured in the Stars and Stripes magazine. Victor, and two other men from his unit, shot down a low flying German observation plane with their pistols. The three then captured the pilot after he landed nearby. Victor left the service at the rank of Staff Sergeant.
Downs Plane with Pistol Article

After returning to the U.S., Victor went back to school and graduated from the Tommy Bright School of Floral Design in Indianapolis, IN. On October 6, 1946, he married the former Cora Wanda Barringer of Milton, KY. She was the daughter of Lawrence Barringer and Lela Thelma Conner. The couple made their residence in Versailles, IN, and together had two children, Gail and Fred. They opened their own florist business, Hitz Greenhouse, in Versailles.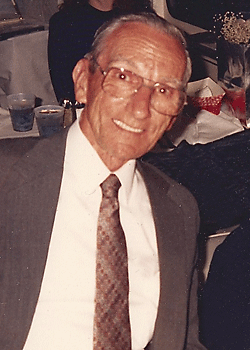 When he wasn't working, Victor served as the Versailles Fire Department Chief. He was also a member of the American Legion, Indianapolis Scottish Rite, Versailles Masonic Temple, Tyson Fund of Versailles and the Tyson United Methodist Church.
Victor passed away on September 19, 2009, and was buried in the Springhill Cemetery in Madison, Indiana.
I want to thank Victor's son, Fred, for providing the photos and information for this article.