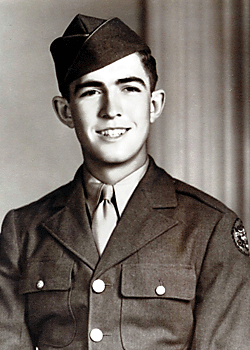 Donald B. Heslop
Biography: Donald "Don" Bruce Heslop was born on October 11, 1922, in Marietta, Ohio. He is the son of Herbert G. Heslop and Isabelle McWhirter. Don attended Lash High School in Zanesville, Ohio. He then attended Ohio State University until he was drafted. He met Ann Christine Haley, who would become his wife following the war, in Zanesville, where they both lived. Ann was born in Akron, Ohio, and is the daughter of Arthur R. Haley and Katharine Moore.
Service Time: Don was drafted in December, 1942, and entered the Army on January 3, 1943. He was shipped to Fort Hayes at Columbus, Ohio, processed into the military for a few days, and was then shipped to Camp Hood, Texas. There, he was assigned to Company C of the 607th Tank Destroyer Battalion. The units training took them from Camp Hood to Camp San Luis Obispo, the Desert Training Center (Camp Ibis) and eventually to Camp Cooke, all located in California. They shipped to England in April, 1944, and landed at Utah Beach in two groups on the 17th and 23rd of June. In mid-August, Company C was heavily involved in action at Le Bourg St Leonard, France. On the morning of the 16th, Don was a member of a 3″ anti-tank gun crew and they were set up at an intersection in the town. Suddenly an enemy tank appeared out of the woods along with supporting infantry. The crew was driven away from the gun for a short period by the intense fire coming from the enemy troops. Upon returning to action, they were able to knock out the tank but their gun was disabled at the same time. The men moved to support their infantry who were running low on ammunition. Don volunteered with another 607th soldier, Cpl. Bertram S. Washabaugh, to get more and returned to a half-track a short distance away. Returning over the same route, loaded down with bandoliers and ammo boxes, they approached and went through a hedgerow. Unknown to them, an enemy patrol had infiltrated behind the lines.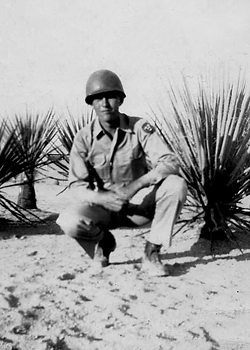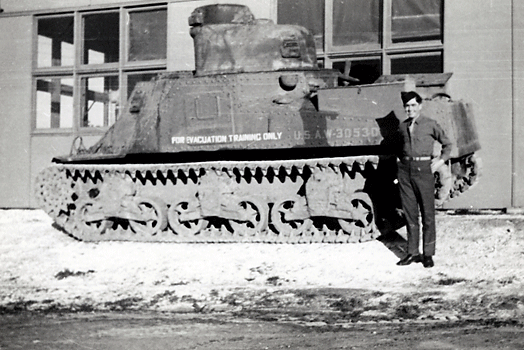 The following link is an extract from a booklet that Don wrote which details his time in the Army; this part picks up the action during their return to the front with ammunition: "Don's capture and 8 ½ months as a POW"
Don left the Army at the rank of Corporal and was discharged at Camp Atterbury, Indiana, on November 19, 1945.
Post Service Years: After returning to his home, Don resumed his college education at Miami University in Oxford, Ohio in January, 1946. He and Ann were married on January 19, 1946. They made their home in Akron and had two sons, Bruce, born in 1947 and Tim, born in 1951. Don completed his college studies in the fall of 1948, graduating with a degree in Business Administration. He worked for Goodyear Tire Co. in Akron and later went to work at Permanent Federal Savings & Loan Co., also in Akron. He went on to become the President and CEO of the firm, retiring in 1984. In his spare time, Don enjoys sailing and bike riding. He has also been active in Rotary International, United Way and the Red Cross. On May 14, 2011, Don, as part of a group of WWII veterans on an Honor Flight, visited the World War II Memorial, in Washington, D.C.
Don and Ann are still enjoying life together. In addition to their two sons, they have three grandchildren and five great-grandchildren. We would like to thank Don for his service to the country and wish both he and Ann continued long life and good health. We would also like to thank Don's son, Tim, for providing the photos and information used in this tribute.
In July of 2015, recently retired Dwight Washabaugh, son of Cpl. Bertram S. Washabaugh, began researching his father's wartime service. He eventually contacted Steve Dike (researcher at this website) who was able to connect him with Tim Heslop, Don's son. On July 31st and August 1st, Dwight was able to meet with Don Heslop, who was captured with his dad almost 71 years ago outside Le Bourg St. Leonard, France, and Tim. It was an incredible moment for all. In the photo below are Tim Heslop on the left, Dwight in the middle and Don on the right.
We are sad to note the passing of Don on April 5, 2017. Don and his family loved to sail, and in keeping with his and his wife's wishes, their ashes were placed off the south shore of Lake Erie in July of 2017.